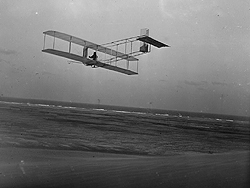 Inspired by the first successful flights in 1903 of Wilbur and Orville Wright, of Dayton, Ohio, men such as Glenn Curtiss of Hammondsport, New York started their own aircraft companies, competing with the Wright Brothers, who had swiftly capitalized upon their success by creating the Wright Company. A California planebuilder, Glenn L. Martin, established a firm called the Glenn L. Martin Company. These outfits all did plenty of business during World War I. Following that conflict; there was little demand for new aircraft, for there were plenty of war surplus planes and engines. Martin built some of the earliest bombers--one sank a captured German battleship in a 1921 exercise, impressing military planners.
Other airplane builders also went into business: Donald Douglas, William Boeing, and Alan Loughead, who pronounced his name "Lockheed," and took to spelling his company's name that way. All three found good prospects. Donald Douglas got started by working with a wealthy enthusiast who wanted a airplane that could cross the country nonstop. By building it, Douglas gained experience that allowed him to develop a long-range Army plane, the World Cruiser. Two World Cruisers flew around the world in 1924 in a succession of short hops.
Airmail held promise. It earned federal subsidies for mail carriers that made it easy to turn a profit. A few brave travelers also began buying airplane tickets. Boeing gained an important success in 1926 with a single-engine airplane that was well suited for carrying mail and passengers over the Rocky Mountains. The same year Lockheed, which then employed the engineer Jack Northrop, crafted the Vega, which set speed and altitude records and became popular as an airliner. Jack Nothrop later founded his own plane-building firm.