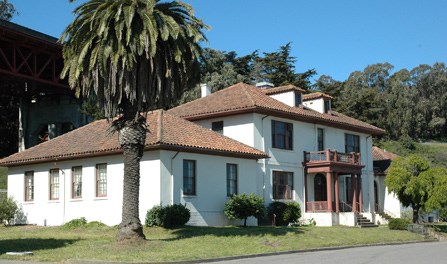 History of the Style
By the late 19th century, California architects made a monumental shift in the direction of their architectural inspiration. Rather than continuing to adopt imported East Coast architectural styles, these architects recognized the value of their own historic surroundings, where the Spanish Colonial mission heritage of California and the Southwest had built beautiful mission chapels, with thick, white stucco walls, red clay roofs and bell towers. These West Coast architects launched the Mission Revival style, which was characterized by silhouetted shapes that mimicked the old missions, with large flat stucco surfaces, often punctuated by deep windows and door openings. The exterior surface was usually devoid of any ornamental detail; the shadow patterns of the roof overhangs displayed on the walls were usually the only building decoration. The gable and hip roofs had overhanging eaves and were typically sheathed with red clay tile. The Mission Revival style became more visible and popular across the west as the Santa Fe and Southern Pacific railways embraced the style with their new stations and resort hotels.
Mission Revival Buildings at Golden Gate
Fort Winfield Scott, constructed on the Presidio in 1912 as the new headquarters for the coastal artillery defense, was one of the army's first building projects in the Mission Revival style. The new, large barracks and administrative buildings were built with flat, unadorned white stucco walls, decorative parapets and red tile roofs. Fort Winfield Scott's design was considered a great success and eventually the Mission Revival style became a visual tool that identified the army's military presence. By the 1930s, the Mission Revival style became so popular with the San Francisco-based army that they repainted most of their older buildings off-white and replaced dark roofing material with new red clay tiles, in order to create a uniform appearance.