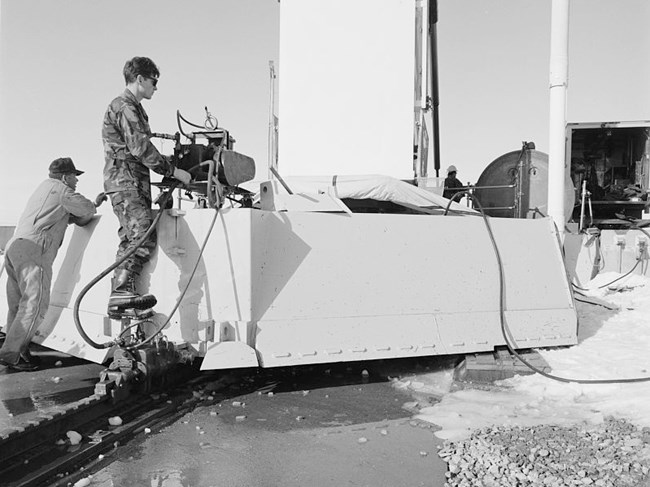 The fall of the Berlin Wall in November 1989 marked the beginning of the end of the Cold War. On July 31, 1991, President George Bush and Soviet leader Mikhail Gorbachev signed the Strategic Arms Reduction Treaty (START), which placed a limit on the worldwide number of ICBMs and prescribed a process for their destruction. The treaty coincided with the end of the Cold War, and the Air Force's growing disenchantment with the escalating costs of repairing and maintaining the Minuteman II system. On September 27, 1991, President Bush announced on national television his "plan for peace." As part of the plan, Bush called for "the withdrawal from alert, within 72 hours," of all 450 Minuteman II missiles, including those at Ellsworth AFB.
On December 3, 1991, an Air Force crew arrived to remove the first of Ellsworth AFB's 150 Minuteman II missiles: Golf Two (G-2), a launch facility near Red Owl, about 60 miles northeast of Rapid City. The Rapid City Daily Journal reported on the crew's progress.
Disarmament began with snow shovels at dawn ... as Airman 1st Class James Comfert and his colleagues cleared the launch-door rail. . . . Six hours later, a Minuteman II intercontinental ballistic missile was stored safely in its transporter/erector truck. G-2 was just a high-tech hole in the ground.