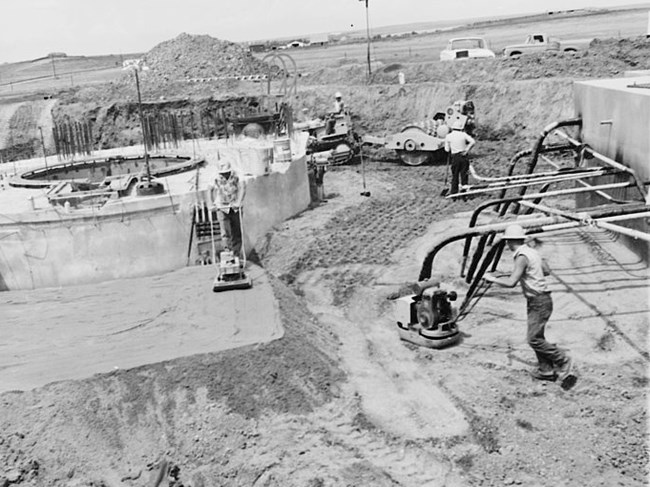 On September 11, 1961, the groundbreaking ceremony for Ellsworth AFB's Minuteman installations took place at Site L-6 near Bear Butte. The festivities started with a bang. While the Sturgis High School band played, representatives from Boeing, Kiewit, the Corps of Engineers, and Ellsworth AFB set off an explosive charge to begin the excavation.
Despite extreme cold, high winds, and heavy snowfall, construction proceeded at a furious pace through the winter of 1961-62. In mid-December, the Corps of Engineers told reporters that "men are working seven days a week, three shifts a day on Minuteman construction.'' A Corps spokesman said that crews were "able to dig five silo emplacements simultaneously. Each takes from four to ten days . . . " The first squadron, near Wall, was well underway, said the Corps, and work ,on the second squadron, near Union Center, had already started.
In February 1962, General Delmar Wilson told the Rapid City Chamber of Commerce that despite an ongoing labor dispute between Peter Kiewit Sons and the Ironworkers Union, South Dakota's ICBM deployment suffered fewer work stoppages than any missile program in the Nation. "We're all out . . . to assure that our way of life is maintained," stated Wilson. "This missile project ... is the number one project in the country today. If this guy in Russia wants to start a show, we'll be there to put a hole in him to the best of our ability. "
By early summer of 1963, the steel fabrication was finished at all 165 South Dakota sites, and crews were completing the silos at the rate of one per day. On the last day of June, the first 20 silos were turned over to the Strategic Air Command. On October 23, the Nation's second wing of Minuteman ICBMs was fully operational. The work was completed nearly three weeks ahead of schedule.