Article
Minuteman Comes to Ellsworth Air Force Base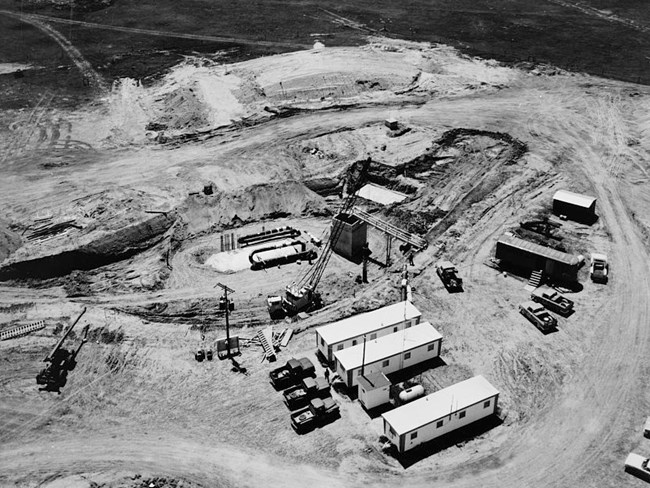 Military strategists began planning for a second Minuteman installation shortly after work got underway at Malmstrom AFB. In June 1960, the Air Force was authorized to add another 150 missiles to the Minuteman force. By early October, military strategists had narrowed their search for a new site to three locations in North and South Dakota. On January 5, 1961, US Senator Francis Case of South Dakota announced that Ellsworth AFB would be the headquarters for the Nation's second Minuteman deployment. Located about 12 miles east of Rapid City, Ellsworth AFB was founded in 1941 as the Rapid City Army Air Base. The Air Corps used the airfield to train B-17 bomber crews, and Ellsworth eventually served as home base for many of America's largest strategic bombers. The base was also headquarters for a Titan I missile squadron.
Although the Defense Department had not yet officially authorized the South Dakota Minuteman installation, Senator Case wanted the land acquired immediately so there would be "no loss of valuable time" once the project was approved. Local ranchers did not share Case's sense of urgency. Fearing that the government might offer below-market prices for their land, the ranchers established the Missile Area Landowners' Association to negotiate fair prices. The association assured fellow citizens that its actions would "not necessarily slow the national defense effort."
While real estate negotiations were underway, the South Dakota State Highway Department spent $650,000 from the Federal Bureau of Public Roads to improve 327 miles of roads leading to the proposed missile sites. By June 1961, Boeing was busy improving the infrastructure. Anticipating that the project would bring in more than 3,000 workers, the company raced to build mobile home camps and cafeterias near Wall, Sturgis, Belle Fourche, and Union Center, as well as in Rapid City.
By early summer, more than three-quarters of the local landowners agreed to give the government access to their land. Once the sites were finalized, the Ralph M. Parsons Company, an architectural and engineering firm from Los Angeles, prepared plans for the Minuteman installation. The Air Force assigned responsibility for construction to the US Army Corps of Engineers Ballistic Missile Construction Office. In July 1961, four of the nation's largest construction firms submitted bids for the project. The low bid came from Peter Kiewit Sons Company of Omaha, whose estimate of $56,220,274 was nearly $10 million below government projections.
Last updated: October 20, 2020