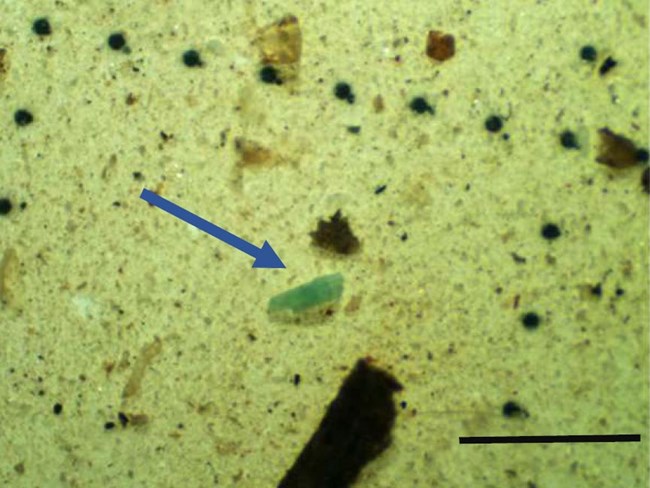 October 2017 - Every beachgoer has probably noticed plastic trash littering their favorite beaches, however remote. A new study of microplastic distribution on national park beaches indicates that whichever one you visit, there is probably also some amount of plastic that is harder to see, mixed in with the sand between your toes.
Microplastics are plastic particles or fibers smaller than 5mm in size. They can come from the the breakdown of larger plastic items, or they may been made intentionally small for inclusion it cosmetic or hygiene products. Synthetic clothing is a common source of microplastic fibers. Microplastics are an emerging concern because they can enter food webs, and from there, potentially human stomachs. On top of that, they often harbor concerning compounds from when they were manufactured, and/or that they have absorbed in their new aquatic environments. Much more research is needed to understand the risks of microplastics more clearly, but the implications of any negative impacts on organisms or ecosystems could be widespread.
This new study, funded by the NOAA Marine Debris Program and led by the National Park Service and Clemson University, provides a snapshot of microplastic concentrations at 37 beaches in 35 parks throughout the country. Microplastics were found on every beach sampled, nearly all in microfiber form. Certain Pacific Island and Great Lakes beaches had the highest concentrations, while some remote beaches in Alaska had the lowest. West Coast beaches had more moderate microplastic concentrations.