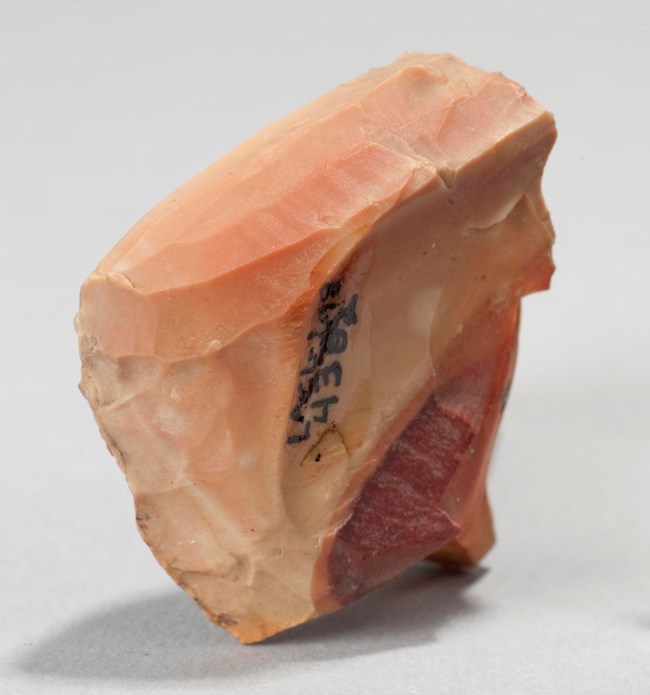 Investigating the Past
This micro-blade core was found near Lower Twin Lake which dates from around 12,000–9,500 years Before Present (BP). Is it the oldest object in the collections? Was it found at the oldest archaeology site in the park? These are hard questions to answer - for one thing, we don't know all there is to know about our park yet, and for another, it depends! Fuzzy answers? Yes. Here's a little bit more to explain...
We know that ice retreated from the Lake Clark basin around 14,000BP. We also know based on pollen analysis from sediment cores that vegetation became established in the park around 12,000 to 11,000 BP. We have evidence that people have been in the region for more than 11,000 years, indicating that they moved in very soon after the glaciers retreated. The earliest radiocarbon dates we have are from an archaeological site near what is today named Two Lakes. The dates from this site indicate that people were living here between 8,817 and 11,743 years BP. Although there was lots of lithic material found at this site as a result of stone tool making, there were no diagnostic artifacts found. A diagnostic artifact is one that is indicative of a particular time period or cultural group.
The micro-blade core shown here is among the oldest diagnostic artifacts we've found in the park to date. Made out of a beautiful peachy chert, it is one of several found to the west of what is now known as Lower Twin Lake. Micro-blades are a specialized stone blades made from silica-rich stones like chert, quartz, or obsidian that are that are at least twice as long as they are wide. The artifact you see here is not the blade itself, but the stone, or core, from which the blades were manufactured. Notice that this core is wedge-shaped. Based on this distinctive shape, archeologists have determined it and the others found near Lower Twin fit into a cultural tradition known as the Early Beringian/Denali Complex, which dates from around 12,000–9,500 BP.