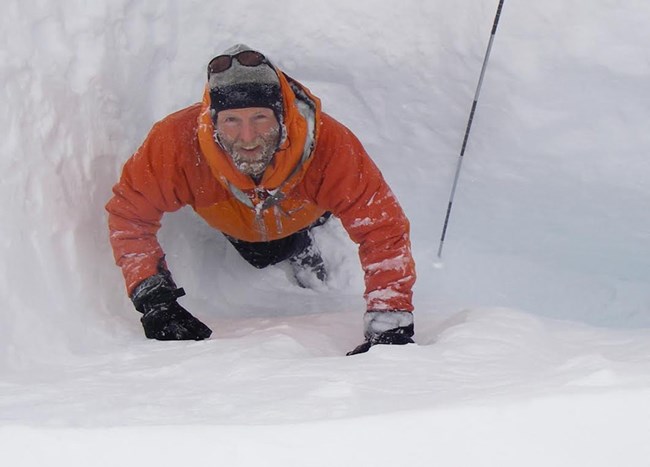 Michael Loso, PhD
Geologist
Resource Stewardship and Science
Wrangell-St. Elias National Park and Preserve
Principal Investigator, Glaciers
Central Alaska Network and Southeast Alaska Network
Inventory &Monitoring Program
PO Box 439
Copper Center, AK 99573
(907) 529-9372
michael_loso@nps.gov
Education
Ph.D. 2004 University of California, Santa Cruz Geomorphology
MS 1996 University of Vermont Botany, Field Naturalist Program
BA 1990 University of California, Santa Barbara Environmental Studies
Skills and Interest Areas
Geology, geohazards, glacier and permafrost monitoring, botany, the banjo
Professional Experience
2015-present Physical Scientist, National Park Service, Wrangell-St Elias National Park and Preserve
2015-present Adjunct Research Professor, Alaska Pacific University, Department of Environmental Science
2010-2015 Associate Professor, Alaska Pacific University, Department of Environmental Science
2008-2012 Director, Master of Science in Environmental Science Program, Alaska Pacific University
Professional Activities
Glacier monitoring for Wrangell-St Elias, Denali, and Glacier Bay national parks and preserves
SAR Incident Management Team Planning Chief, Wrangell-St Elias National Park and Preserve
President, Board of Directors, The Wrangell Mountains Center (2006-2010)
Member of the American Geophysical Union, Geological Society of America, and International Glaciological Society
Publications
McNeil, C., S. O'Neel, M. Loso, M. Pelto, L. Sass, E. H. Baker, and S. Campbell. 2020. Explaining mass balance and retreat dichotomies at Taku and Lemon Creek Glaciers, Alaska. Journal of Glaciology 1-13.

Broadman E, Thurston LL, McKay NP, Kaufman DS, Schiefer E, Fortin D, Geck J, Loso MG, Nolan M, Arcusa SH, Benson CW, Ellerbroek RA, Erb MP, Routson CC, Wiman C, Jae Wong A. 2019. An Arctic watershed observatory at Lake Peters, Alaska: weather-glacier-river-lake system data for 2015-2018. Earth System Science Data Discussion. DOI:10.5194/essd-2019-60.

Wikstrom Jones K, Loso MG, Bartelt P. 2018. Modelled mass and temperature effects of entrained snow on the lubricated flow regime and implications for predicting avalanche run-out distance. Proceedings, International Snow Science Workshop, Innsbruck Austria 84-88.

Dufresne, A., M. Geertsema, D. H. Shugar, M. Koppes, B. Higman, P. J.Haeussler, C. Stark, J. G. Venditti, D. Bonno, C. Larsen, S. P. S.Gulick, N. McCall, M. Walton, M. G. Loso, and M. J. Willis. 2018. Sedimentology and geomorphology of a large tsunamigenic landslide, Taan Fiord, Alaska. Sedimentary Geology 364:302-318. DOI: 10.1016/j.sedgeo.2017.10.004

Higman, B., D. H. Shugar, […] M. Loso. 2018. The 2015 landslide and tsunami in Taan Fiord, Alaska. Scientific Reports 8: 12993.

Boes E, Van Daele M, Moernaut J, Schmidt S, Jensen BJL, Praet N, Kaufman D, Haeussler P, Loso MG, De Batist M. 2017. Varve formation during the past three centuries in three large proglacial lakes in south-central Alaska. GSA Bulletin. DOI:10.1130/B31792.1.
Ganey GQ, Loso MG, Burgess AB, Dial RJ. 2017. The role of microbes in snowmelt and radiative forcing on a large Alaskan icefield. Nature Geoscience. DOI:10.1038/ngeo3027.
Loso MG, Finney B, Johnson R, Sinnott R. 2017. Evaluating evidence for historic anadromous salmon runs in Eklutna Lake, Alaska. Arctic 70(3): 259-272.
Curran JH, Loso MG, Williams HB. 2017. Glacial conditioning of stream position and flooding in the braid plain of the Exit Glacier foreland, Alaska. Geomorphology 293: 272-288.
Praet N, Moernaut J, Van Daele M, Boes E, Haeussler P, Strupler M, Schmidt S, Loso MG, De Batist M. 2017. Paleoseismic potential of sublacustrine landslide records in a high-seismicity setting (south-central Alaska). Marine Geology 384:103-119.
Sass LC, Loso MG, Geck J, Thoms EE, McGrath D. 2017. Geometry, mass balance, and thinning at Eklutna Glacier, Alaska: an altitude-mass-balance feedback with implications for water resources. Journal of Glaciology. DOI:10.1017/jog.2016.146.
Rinas C, Dial R, Sullivan PF, Smeltz TS, Tobin CS, Loso MG, Geck J. 2017. Thermal segregation drives patterns of alder and willow expansion in a montane ecosystem subject to climate warming. Journal of Ecology. DOI:10.1111/1365-2745.12737.
Loso MG, Arendt A, Larsen C, Rich J, Murphy N. 2014. Alaskan National Park glaciers-status and trends: Final report. Natural Resource Technical Report NPS/AKRO/NRTR-2014/922. National Park Service, Fort Collins, Colorado.
Loso MG, Doak DF, and Anderson RS. 2014. Lichenometric dating of Little Ice Age glacier moraines using explicit demographic models of lichen colonization, growth, and survival. Geografiska Annaler. 96: 21-41. DOI:10.1111/geoa.12022.
Loso MG, Goodwin KG, Williams H, Johnson R, and English D. 2013. Glacial transport of human waste and survival of fecal bacteria on Mt. McKinley's Kahiltna Glacier, Denali National Park, Alaska. Natural Resource Technical Report NPS/AKR/NRTR-2013/784. National Park Service, Fort Collins, Colorado.
Series: Copper River Basin Symposium - Wrangell-St Elias National Park and Preserve
Last updated: April 14, 2020