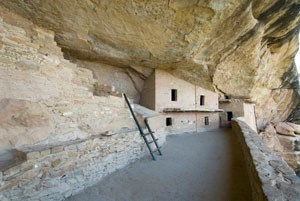 About 1,400 years ago, long before Europeans explored North America, Ancestral Puebloans, sometimes called Anasazi, made their homes at Mesa Verde. For more than 600 years they and their descendants lived and flourished here, eventually building elaborate stone communities in the sheltered alcoves of the canyon walls. By about 1300 A.D. they had left their homes and moved south. Mesa Verde National Park preserves a spectacular reminder of this ancient culture. Although archeologists have called these people Anasazi, we now call them Ancestral Puebloans, reflecting their modern descendants.

Ancestral Puebloans first arrived in the area of Mesa Verde National Park around 550 AD. Skilled basketweavers and later potters, they were a nomadic people in transition to a more settled way of life. At Mesa Verde, they farmed crops such as beans, corn, and squash and supplemented their diet by gathering wild plants and hunting deer, rabbits, squirrels, and other game. At first, they lived in pithouses, usually dug into the ground on the mesatops, but sometimes also located in alcoves in the cliffs. Later, as their population grew, they built larger houses of adobe, called pueblos. By 1000, they were building advanced, multi-story houses of shaped stone. Between 1100 and 1300, during the Classic Period, the population at Mesa Verde may have reached several thousand people, with most concentrated in compact villages of many rooms, often with kivas built inside the enclosing walls of the pueblos. Ancestral Puebloan people left the remnants of their villages and lives at sites throughout the Four Corners area.
Around 1200 AD, some people began to move back into the cliff-side alcoves. Anthropologists and archeologists do not know exactly why this population shift occurred, but Mesa Verde is famous for the cliff dwellings built by this last group of Ancestral Puebloans. Mostly constructed from the late 1190s to late 1270s, these cliff dwellings range in size from one-room structures to villages of more than 150 rooms, such as Cliff Palace and Long House. Builders fit the structures to the available space, constructing their villages from sandstone blocks and mud mortar. Livings rooms averaged about six feet by eight feet, space enough for two or three persons. Smaller rooms in the rear and on the upper levels were likely used for storage. Most villages included undergound kivas, thought to have been used as ceremonial chambers.
A few generations later, around 1300, the Ancestral Puebloans abandoned Mesa Verde for points south. While no one today knows why, the people may have migrated away because of droughts and crop failures or the depletion of heavily used soils, forests, and animals. Perhaps they experienced social and political problems and wished to look for new opportunities elsewhere. When they left Mesa Verde, they traveled south into Arizona and New Mexico, settling among their kin who were already there.
Visitors should stop at the Mesa Verde Visitor and Research Center (at the park entrance) for information and orientation and to purchase tickets. Cliff Palace, Balcony House, and Long House are three of the most impressive sites to see. Other highlights include exploring the Chapin Mesa Archeological Museum, taking a self-guided tour of Spruce Tree House, anddriving the Mesa Top Loop Road (six-mile loop). Visitors can also hike to the Far View Sites Complex. Some historic cliff dwellings offer opportunities for self-guided tours, but others are restricted and can only be visited with a guide. Overnight guests can plan to stay at the Far View Lodge or the Morefield Campground.
Most of the archeological sites open to the public are along the Chapin Mesa or Wetherill Mesa. As one drives into the park, Montezuma Valley, Park Point, and Geologic overlooks to get a good sense of the Mesa Verde landscape. During the summer months, visitors should plan to spend some time at both Chapin Mesa and at Wetherill Mesa. Wetherill Mesa is closed from Labor Day to Memorial Day.
On Chapin Mesa, you'll find Cliff Palace, Balcony House, Spruce Tree House, the Far View sites and a self-guided auto tour along Mesa Top Loop Road with numerous mesa-top sites and views of the cliff dwellings. The historic Mesa Verde Administrative District has been designated a National Historic Landmark and offers food service and rest-rooms.
Most of the best-known and most heavily visited Mesa Verde cliff dwellings are found on Chapin Mesa. Cliff Palace, Balcony House, and Spruce Tree House are among the largest and most impressive cliff dwellings at Mesa Verde, but they are atypical of alcove sites in general. Most contain approximately ten rooms, but all three of these sites are much larger, with numerous rooms and kivas. Some of these larger cliff dwellings are thought to have been administrative centers, with spaces set aside for public purposes as well as living spaces. These sites are world famous and very busy from June through early August. For a quieter visit, schedule your trip to Mesa Verde for late summer and fall, or include Wetherill Mesa in your summer itinerary.
Wetherill Mesa is open from Memorial Day to Labor Day, and is reached by a spur road leading from the Far View area. Long House, the largest cliff dwelling one can visit on Wetherill Mesa, requires a ticket for a ranger-guided tour, and is accessible by tram from the Wetherill Mesa parking area. Step House, also located in an alcove on Wetherill Mesa, is unusual because the visitors can clearly see both dwellings from the 600s and a pueblo from the 1220s, when it was re-occupied by Ancestral Puebloan people. Wetherill Mesa is always less busy than Chapin Mesa, but there are fewer services available. Although there is a snack bar at Wetherill Mesa, visitors should come prepared with snacks, water, and sun protection.
The Ancestral Puebloans occupied and built upon the flat tops of the mesas throughout their time at Mesa Verde, and found them especially useful for farming, hunting, and gathering wild foods. Mesa-top sites to visit on Chapin Mesa include Cedar Tree Tower, used between 1000 and 1300 when towers and kivas often were built together—perhaps for religious reasons or as part of a communications system. Nearby, the Farming Terrace Trail allows visitors to learn about water retention and other ancient farming techniques. In the Far View area, you'll find trails to several excavated sites dating from between 900 and 1300, including Far View House, Pipe Shrine House, Coyote Village, Far View Reservoir, Megalithic House, and Far View Tower. These sites are part of an estimated 50 villages in the Far View area. Along Mesa Top Loop Road, the mesa-top Sun Temple, which contemporary Pueblo Indians describe as a ceremonial space, is accessible by self-guided tour. On Wetherill Mesa, ride the tram to the trailhead for the mesa-top Badger House Community that dates from c. 600 to c. 1200 AD, as well as several short trails to overlooks.

What the Spanish called Mesa Verde, "green table," many Ancestral Puebloans once called home. Although the inhabitants of the mesa are gone, visitors to the park will marvel at the spectacular cliff dwellings and artifacts that tell of a people adept at building, artistic in their crafts, and skillful at making a living from a difficult land. By the Classic Period, Ancestral Puebloans were heirs of a vigorous civilization, whose accomplishments in community living and the arts rank among the finest expressions of human culture in North America. Today, at least 24 tribes throughout New Mexico, Arizona, Colorado, and Texas trace their roots to the cliffs of Mesa Verde.

Mesa Verde National Park, a unit of the National Park System, is located off US Route 160, 10 miles east of Cortez, CO. The Mesa Verde Administrative District, part of Mesa Verde National Park, has been designated a National Historic Landmark.Click here for National Register of Historic Places registration files for the Mesa Verde Administrative District (text and photos). Mesa Verde National Park is designated a World Heritage Site. For more information, visit the National Park Service Mesa Verde National Park website or call 970-529-4465.


A project through the Save America's Treasures Grant Program, which helps preserve nationally significant historic properties and collections, funded work to conserve multiple cliff dwellings at Mesa Verde National Park in 1999.

Sites within the park have been documented by the National Park Service's Historic American Buildings Survey and Historic American Engineering Record. Mesa Verde National Park is also featured in the National Park Service American Southwest Travel Itinerary.