Melting the Amber: Northeast Region Launches Innovative Historic House Pilot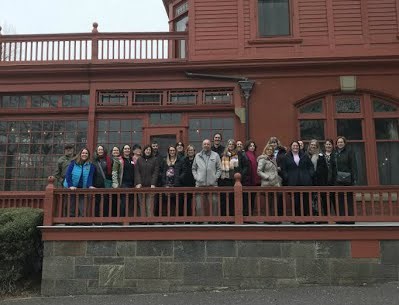 A historic house can be like an ant trapped in amber. What was once alive and growing is sealed in a single sepia-tinted moment.

What if we could melt the amber? The people who lived and worked in these houses laughed, slept, ate and argued together. What if we could hear their laughter? What could these houses teach us about those who lived here? What might they tell us about our own lives?

The Historic House Museum Pilot seeks to reinvent the house museum as an intersection between past and present. Drawing from trends and examples in the broader historic house museum field, this program by the National Park Service (NPS) Northeast Region (NER) will radically rethink visitor experiences at four sites:

• George Washington Birthplace National Monument in Virginia
• Thomas Edison National Historical Park in New Jersey
• Saugus Iron Works National Historic Site in Massachusetts, and
• Saratoga National Historical Park in New York state.

To test its ideas, the program chose four very different historic homes from the dozen or so NER sites which applied to be part of the project. Glenmont, Thomas Edison's estate, includes hundreds of his family's cups, plates and textiles. In contrast, George Washington's original birthplace burnt to the ground in 1779. Visitors tour a house built in 1931 as a tribute to Washington's legacy.

Often, historic house museums tell the stories from a single point of view: their most prominent residents. Maids, butlers and enslaved persons—even spouses and children—vanish. The visitor is often treated only as a spectator, not a participant. This approach edits most of us out of the story, especially young people, women and people of color. The pilot program intends to engage these very audiences.

Team members at Glenmont, home of the Edison familyAt the first workshop in March 2018 at Thomas Edison National Historical Park, maintenance staff, managers, curators and interpreters joined together as a single team. The team adopted three goals:
• identify and engage target audiences
• create meaningful experiences with visitors, and
• share stories with multiple points of view.

The team also embraced three methodical goals:

• participate in a Community of Learning, Inquiry, and Practice (CLIP)
• work across divisions, and
• note successes and identify areas to improve.

What will reinventing the historic house museum—melting the amber—look like? It could mean moving artifacts out of certain spaces or using rooms quite differently. It could mean giving visitors access to rooms which were previously off-limits. These changes will challenge employees and may try their patience. Some visitors expect to have preconceptions confirmed, not challenged. Museum workers will need to learn how to create a safe atmosphere that welcomes multiple points of view.

When the amber melts, who knows where the ant might go? It may even bite.
Last updated: December 11, 2018