Vincent L. Santucci, National Park Service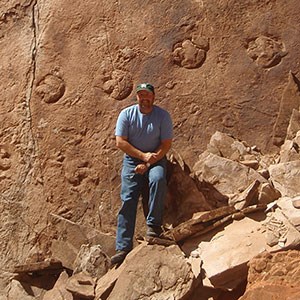 Senior Geologist / Paleontologist, National Park Service - Geologic Resources Division, Washington D.C.
NFD Kid's Page Interview...
What is your job, and what do you study?
My career is dedicated to the management, protection, interpretation, scientific research and curation of National Park System fossils, identified in more than 260 national parks. One important function of my position is to coordinate paleontological resource planning and activities both within the National Park Service and with a range of academic, museum, and educational partners, in order to achieve our resource stewardship and public education missions. One of the most rewarding aspects of my position involves working with our National Fossil Day team to promote an increased awareness about the scientific and educational values of fossils.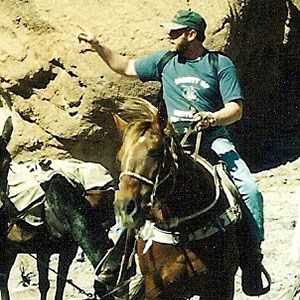 What are you working on now?
Every day is different with new challenges and discoveries. One day I may be involved in the review of a scientific report and then provide a park support with a fossil theft or vandalism investigation. It is a great privilege and honor to help care for the fossil record preserved in our national parks.

Where did you go to school? What were some of your favorite classes that you took?
I attended the University of Pittsburgh for both my undergraduate and graduate education, which spanned three departments: Biology, Geology and Anthropology. I taught Comparative Vertebrate Morphology labs in the Biology Department and Physical & Historical Geology labs in the Geology Department. I was also the instructor for the Honors Program Course - "Geology of the National Parks". I was fortunate to be able to volunteer in the Carnegie Museum of Natural History's Vertebrate Paleontology preparation lab involved with sorting of microvertebrate fossils from cave sediments for paleontologist John Guilday and preparing a Coelophysis block from Ghost Ranch.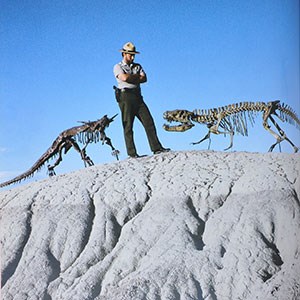 One of my favorite undergraduate classes was Sedimentology / Stratigraphy where I began to embrace the science which enables us to read and interpret the rock record. As a graduate student, I loved the course Paleoecology and my favorite graduate seminar was Evolution and the History of Science which involved an extensive review of both the scientific and philosophical literature.
Was there an experience you had that made you realize you wanted to be a paleontologist?
I grew up in Pittsburgh in the shadow of Forbes Field and Carnegie Museum of Natural History. Summer days were spent playing baseball, getting autographs from the some of the Pirates at the ball park or playing in Dinosaur Hall in the museum. So at 9 years of age, my dream was to grow up and play baseball or dig for fossils.
What is your most memorable experience working with fossils?
While serving in my first position with the National Park Serve as a ranger at Badlands National Park, I was also conducting my graduate field research in the park. Frequently I would encounter individuals who were involved with unauthorized collecting of fossils within the park. I soon learned that an escalating commercial fossil market was resulting in increased incidents of fossil theft on public lands including national parks.
As a result, when I returned to finish my thesis at the University of Pittsburgh, I began to open dialog regarding the need for greater protection legislation for fossils and entered into a National Park Service law enforcement training program. In 1991, I joined the National Park Service at Petrified Forest National Park to help address the loss of petrified wood loss and serve as the federal government's only "Pistol Packing Paleontologist".
Do you have any advice for aspiring paleontologists?
Develop an educational strategy which integrates: 1) a solid foundation in both biology and geology; 2) a graduate advisor committed to their students; and, 3) a paleontology internship with the National Park Service through the Geological Society of America's GeoCorps Program.
Last updated: April 22, 2020