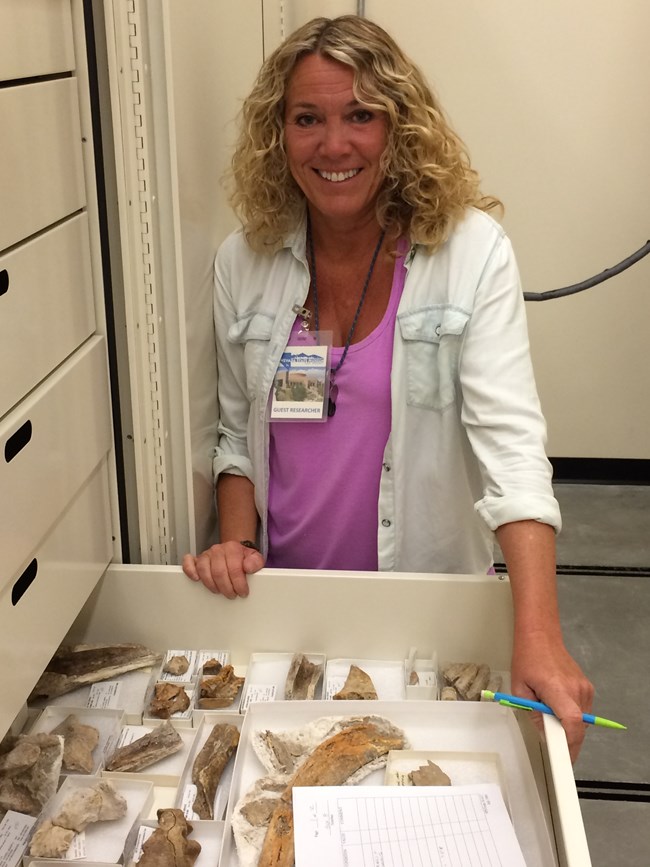 Geologist, U.S. Geological Survey, Pasadena, California
NFD Kid's Page Interview...
Please describe the type of work you do in paleontology:
My career path in paleontology has been varied and a little unusual. When I was in college, I worked on lower Devonian graptolites and conodonts as well as vertebrate fossils from Australia and the Mojave Desert. After graduation, I ended up at natural history museum in southern California, which was super lucky, since my dream was to work at a museum(!) There, I worked exclusively in the field of vertebrate paleontology – finding (mostly) late Pleistocene fossils, and learning more about what it takes to "curate" a fossil and work in museum collections. I also worked extensively on exhibits and geoscience outreach in my role as senior curator in geological sciences.
My specific interest in vertebrate paleontology is understanding the environments in which extinct animals – mammoth, mastodon, horse, camel, bison and sloth – lived and died. I have worked to understand the stratigraphy and chronology of the deposits that entomb fossils at sites all over southern California and Mojave Desert in an effort to make all of the collections in the museum meaningful to other scientists – to give the fossils a context.