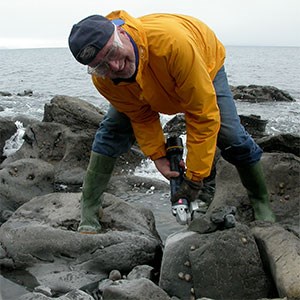 Assistant Vice President for Collections & Research and Withrow Farny Curator of Vertebrate Paleontology, Cincinnati Museum Center, Cincinnati, Ohio
---
NFD Kid's Page Interview...
What is your job, and what do you study?
I'm the chief curatorial officer for the museum, meaning that I supervise all science and history collection staff and am ultimately responsible for the preservation and availability of our collections. Fossils and other collection items are used for research, exhibits and programming at Cincinnati Museum Center or they may be loaned to other museums and research institutions. As my professional area of expertise is vertebrate paleontology, I have direct control over our extensive vertebrate fossil collections, guiding their growth, setting policies for their use, approving loans, supervising preparation activities and facilitating exhibits and research. I also network with colleagues from around the world to insure that our fossils are accessible to the larger scientific community. Many of the fossils in our museum originate from public lands and are held in trust for the benefit of all Americans. My own research has focused primarily on fossil reptiles, particularly plesiosaurs and their relatives, but I have spent years collecting dinosaurs and associated fossils for the museum, and have studied a range of fossil vertebrates as opportunities have arisen through new discoveries and collaborations.