Glen W. Storrs, Cincinnati Museum Center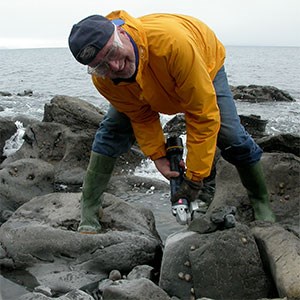 Assistant Vice President for Collections & Research and Withrow Farny Curator of Vertebrate Paleontology, Cincinnati Museum Center, Cincinnati, Ohio
---
NFD Kid's Page Interview...
What is your job, and what do you study?
I'm the chief curatorial officer for the museum, meaning that I supervise all science and history collection staff and am ultimately responsible for the preservation and availability of our collections. Fossils and other collection items are used for research, exhibits and programming at Cincinnati Museum Center or they may be loaned to other museums and research institutions. As my professional area of expertise is vertebrate paleontology, I have direct control over our extensive vertebrate fossil collections, guiding their growth, setting policies for their use, approving loans, supervising preparation activities and facilitating exhibits and research. I also network with colleagues from around the world to insure that our fossils are accessible to the larger scientific community. Many of the fossils in our museum originate from public lands and are held in trust for the benefit of all Americans. My own research has focused primarily on fossil reptiles, particularly plesiosaurs and their relatives, but I have spent years collecting dinosaurs and associated fossils for the museum, and have studied a range of fossil vertebrates as opportunities have arisen through new discoveries and collaborations.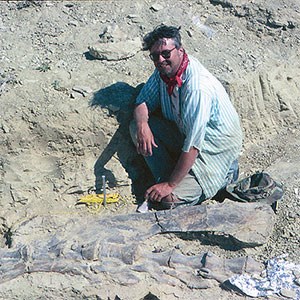 What are you working on now?
At the moment, I'm busy with several research and field projects. These include conducting a global review of plesiosaur fossils, exploring latest Cretaceous rocks of the U.S. Northern Plains, preparing a Jurassic sauropod dinosaur skeleton for exhibit, studying late Mississippian age fish and tetrapod fossils from Kentucky, and working with colleagues at the University of Cincinnati to understand Pleistocene ("Ice Age") mammal occurrences at the birthplace of American vertebrate paleontology, Big Bone Lick, Kentucky.
Where did you go to school? What were some of your favorite classes that you took?
I'm a native New Yorker and studied geology and biology at Syracuse University. I earned my master's degree from the University of Texas at Austin in geological sciences and my Ph.D. from Yale in geology and geophysics. I was a postdoctoral fellow in geology/vertebrate paleontology at the University of Bristol in England before coming to Cincinnati. During my graduate school years, I specialized in vertebrate paleontology so, naturally, I was thrilled to take classes from my paleontology professors, especially those that got me out into the field. However, throughout my time in school, I tried to take a wide range of courses in the sciences, languages, and the humanities. I've found that having a broad education has prepared me well for my museum and research career.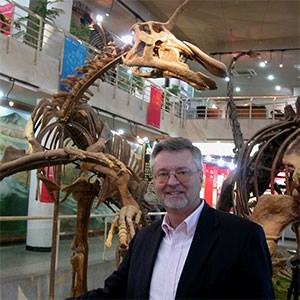 Was there an experience you had that made you realize you wanted to be a paleontologist?
I'll always remember seeing Tyrannosaurus and the other fossil dinosaurs when visiting the American Museum of Natural History as a child. That experience ultimately led me to my own career at a great museum. But probably the greatest influence on my career choice was my love of reading and the very many nature books I had when I was young. My father would bring me books about dinosaurs and other fossils, and my school library was a great source of literature about paleontology and exploration. When not reading, I spent many hours looking for fossils in my neighborhood, not then realizing that the metamorphic bedrock of my hometown had none! Even so, I did find occasional rocks with fossils that had been carried in by past glaciers - this kept my interest!
What is your most memorable experience working with fossils?
This is a difficult question to answer as I've had so many. Traveling the world to study fossils in other museums or collect them in the field has always been a favorite activity of mine. At times, I've been deep in the bowels of a venerable museum, or clamoring about its public exhibits. At others, I've fought the harsh conditions of a fossil site, whether desert or shoreline, to unearth a new discovery. Most recently, I was privileged to discover a skull of the horned dinosaur Triceratops while exploring public lands - very exciting indeed! Yet meeting enthusiastic visitors to my own museum and sharing my passion with them may be the best experience of all.
Do you have any advice for aspiring paleontologists?
I always tell them that pursuing a career in paleontology is not easy. Jobs are scarce and only the most dedicated succeed. Nevertheless, I don't think I've ever been able to dissuade anyone who had a true passion. If you still want to follow your dream and be a paleontologist, absorb as much science - in all areas - as you can. Even those who don't go on to a paleontology career will benefit from a deep understanding of the process of science and the dynamic, changing nature of our earth.
Series: Meet A Paleontologist
Last updated: August 22, 2017