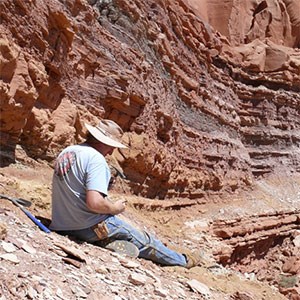 Site Paleontologist and Curator, St. George Dinosaur Discovery Site at Johnson Farm, Utah

What is your job, and what do you study?
I am the paleontologist and curator at a dinosaur tracks museum in southwestern Utah. I specialize in Late Triassic and Early Jurassic tracks and traces, especially those of dinosaurs. I am also in charge of our museum preparation lab, assist with museum exhibits, provide lectures and tours to school groups and the general public, and conduct and coordinate all kinds of paleontological field work, mostly in southern Utah. Occasionally I do sub-contract work for environmental consulting companies, construction companies, and the Utah Department of Transportation. I help them by conducting paleontological surveys when new roads are being constructed or older roads expanded. I have and continue to work with the Bureau of Land Management, National Park Service, and National Forest Service on various paleontology projects as well.