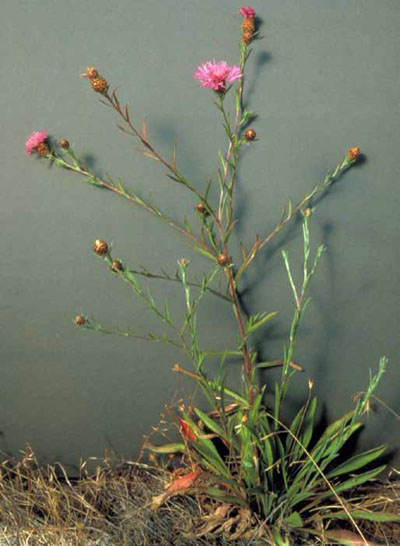 Perennial forb that grows 20-40 inches tall.

Fertile hybrid of black and brown knapweeds (Centaurea nigra x Centaurea jacea).

Stems are branched with one flowerhead at each tip.

Leaves become progressively smaller up the stem. Lower leaves have smooth, lobed, or toothed edges, and upper leaves almost look like bracts.

Pink to reddish-purple flowerheads with fringed bracts underneath.

Fruit is a small, white to light brown, achene.
Habitat and Ecology
Meadow knapweed (Centaurea debeauxii ssp. thuillieri) is a fertile hybrid between black knapweed (Centaurea nigra) and brown knapweed (Centaurea jacea). Black knapweed was probably introduced to North America from ship ballast or as an ornamental. Brown knapweed was purposefully introduced to North America as a forage crop. Meadow knapweed is not very palatable to animals; therefore it easily outcompetes other forage species. Meadow knapweed prefers moist sites in full sunshine, infesting river banks, pipelines, roadsides, fields, and pastures. Once established, infestations of meadow knapweed are difficult to remove. Despite its invasive status, gardeners plant it as an ornamental or as a pollen source for honeybees. The taxonomic status of this species is uncertain.