Article
McBaine Burr Oak (Lewis and Clark National Historic Trail)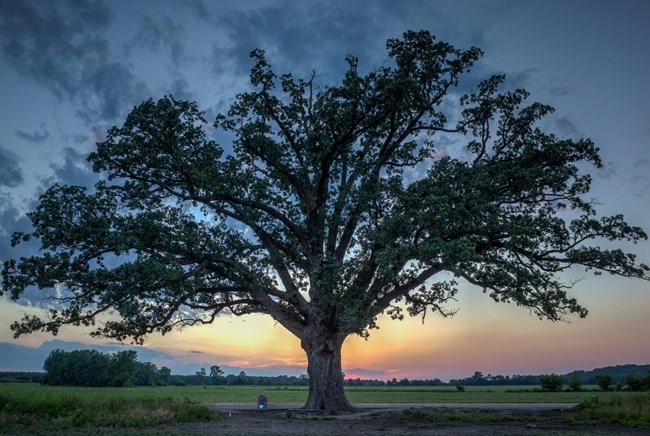 Near Columbia, Missouri you'll find a rare natural landmark. For nearly 400 years it has stood strong, withstanding storms, droughts, floods, vandalism and the progress of humankind. It's the McBaine Burr Oak tree.
Estimated to be between 350 and 400 years old, locals know it as "the big tree." It stands alone – no other tree is within 1,000 feet. As the largest burr oak tree in Missouri, it's tied with another in Kentucky for the title of the national champion (largest) of the specie, Quercus macrocarpa. The tree's trunk, with an impressive 287-inch circumference, is approximately 90 feet tall with a 130-foot spread. It would take four full-grown men to be able to wrap their arms around the trunk.
Since it stands about a half-mile from the banks of the Missouri River, the men of the Expedition would have traveled within sight of the majestic tree. Even then it would have been a large, magnificent landmark at just under 200 years old.
To see the McBaine Burr Oak, take Providence Road south out of Columbia until it turns to Route K. Route K will swing west and in McBaine will turn into Burr Oak Road. About two miles northwest of McBaine, you'll see the tree on your right.
Source: Atlas Obscura
Last updated: April 16, 2018