Washington, D.C.: Mary McLeod Bethune Council House National Historic Site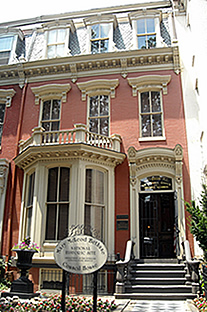 This Second Empire row house in the Logan Circle neighborhood of Washington, DC once belonged to educator and social advocate Mary McLeod Bethune and served as the national headquarters for the National Council of Negro Women (NCNW). She purchased the house in 1943. Mary McLeod Bethune rose from a regional leader in the Civil Rights Movement to one with national prominence as she led the NCNW and numerous other organizations. To understand Mary McLeod Bethune as only a champion of civil rights, though, would be to ignore her longstanding commitment to the rights of women and to education. Hers was a life of civic engagement spent working for the greater good. Mary McLeod Bethune National Council House National Historic Sites tells the story of her life in the house where she lived and worked from 1943.
Born in rural Mayesville, South Carolina in 1875, Mary McLeod Bethune had the unusual opportunity to attend school and receive an education not common among African Americans following the Civil War. Most of her schooling prepared her for missionary work abroad, though she would never serve. Instead, she taught at schools in Georgia and South Carolina. In Sumter, South Carolina, she met her husband, Albertus Bethune. She moved with him to Palatka, Florida, approximately 50 miles south of Jacksonville. There, she established a missionary school. After she and her husband divorced, Bethune moved again to Daytona Beach and established another school in 1904 that she helped grow from six pupils to a high school that served primarily as a secretarial and normal school. In 1923, this school merged with the all-male Cookman Institute to become Bethune-Cookman College. Now known as Bethune-Cookman University, the school enrolls approximately 4,000 students.

While working in Daytona Beach, Bethune became involved with a number of clubs for women. Beginning first at a State level, Bethune worked to establish programs that would fight to end segregated education, to improve healthcare for black children, and to help women use the ballot to advance equality. Her successes on a local level propelled her to the national stage when the National Association of Colored Women elected her its president in 1924. Working with a large national organization helped Bethune develop a network of contacts. These included Maggie L. Walker, a bank president and social reformer, whose Richmond, Virginia house is featured in this travel itinerary.
Bethune's previous administrative experiences served her well, and she proved a capable manager of the day-to-day affairs of the 10,000-member association. She grew the organization, undertook fundraising activities, and strengthened communication between members. On a trip to New York City, though, she grew disaffected with the National Association of Colored Women. She sought an organization that would focus not on making women better people, but on helping them to become agents of social change. This commitment drove her to help create the National Council of Negro Women and to serve as its first president from 1935 to 1949. Under her leadership, the NCNW grew to over 850,000 members. Today, the 4 million members of the NCNW continue the work begun by Bethune.

Bethune was also politically active, representing the causes she believed in as part of President Franklin D. Roosevelt's administration. She received appointments to a number of commissions that advised the president on labor and youth employment as well as education. Perhaps her most notable contribution was through the Federal Council on Negro Affairs (also called the "Black Cabinet") where she and other council members worked to increase opportunities for African Americans during the New Deal. During World War II, she continued to fight for African Americans, particularly for the inclusion of black women in the WAACS (Women's Auxiliary Army Corps) and WAVES (Women Appointed for Voluntary Emergency Service).
Bethune was also a chronicler of black history. She saw race as one of the defining characteristics of the American experience. A better understanding of the history of race, power, and privilege would lead to a breakdown of the social and cultural barriers that so dominated life in America at mid-century. Key to this understanding was the ability of historians, particularly black historians, to record the past experiences of African Americans in the United States. Bethune served as president of the Association for the Study of Negro Life and History and was also involved in other projects to preserve the history of black women and document their achievements. Today, the Mary McLeod Bethune House also includes the National Archives for Black Women's History as part of Bethune's legacy.
Though a fire destroyed some of Bethune's original furnishings, visitors to the house may see her remaining belongings and learn more about the life of a major figure in many areas of the Civil Rights Movement, education, and the struggle for women's equality. Mary McLeod Bethune "made" history as she fought for social reforms to better the lives of African Americans in the United States. She also preserved that history through her support of archives dedicated to recording the people and stories of black America. The house and archives present the lives of women who have made important contributions to black history and culture, with particular emphasis on Bethune's life.
Mary McLeod Bethune National Council House National Historic Site, a unit of the National Park System, is located at 1318 Vermont Ave., NW in Washington, DC. There is no fee to visit the house but donations are accepted.  The house is open seven days a week from 9:00 a.m. to 5:00 p.m. with the last guided tour at 4:00 p.m.. The house is closed Thanksgiving, Christmas, and New Year's Day.  For more information, visit the National Park Service Mary McLeod Bethune National Council Housewebsite or call 202-673-2402.  The National Archives for Black Women's History is open by appointment only.  Researchers may make appointments by calling the number above or by visiting the park's webpage and following the instructions there.
The Council House is included in the National Park Service's Washington, DC: A National Register of Historic Places Travel Itinerary.  The Mary McLeod Bethune Council House is the subject of an online lesson plan The Mary McLeod Bethune Council House: African American Women Unite for Change. The lesson plan has been produced by the National Park Service's Teaching with Historic Places program, which offers a series of online classroom-ready lesson plans on registered historic places. To learn more, visit the Teaching with Historic Places homepage.
Last updated: March 19, 2019