Michigan: Father Marquette National Memorial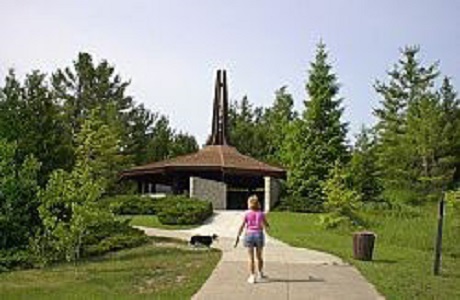 The 1600s and 1700s were an age of discovery in North America. While American Indian tribes had a great knowledge of the land, for representatives of the European colonizing nations it was a new frontier. France was one of the earliest European nations to explore what is today Canada and the northern United States, establishing its colony of New France. Father Jacques Marquette was among the leading French explorers in the New World. On behalf of France, Father Marquette and Louis Jolliet explored and mapped the Mississippi Valley, documenting its rivers and peoples. Today, visitors to Father Marquette National Memorial in St. Ignace, Michigan can learn about the life of this remarkable priest and traveler.
Born in France in 1637, Jacques Marquette became a missionary in the 1650s. In 1666, he was sent to Quebec, one of the major settlements in New France. At its height, New France covered a vast area ranging roughly from Newfoundland and the Great Lakes to the Gulf of Mexico. Between his arrival in Quebec and 1669, Father Marquette traveled throughout New France, mostly in what is today the northern United States and southern Canada, spending time with various Indian tribes learning tribal languages. When he died, he spoke six tribal languages. From Quebec he went briefly to assist as a missionary in Sault Ste. Marie.
Marquette soon left Sault Ste. Marie to found his own mission. In 1671, Marquette established a community ministering to French fur traders and native populations around eastern Lake Michigan. Originally located on Mackinac Island, Michigan, the mission relocated to St. Ignace, Michigan. Marquette did not remain long in St. Ignace as larger forces of empire intersected with his life. Though Marquette may have come to North America to preach and convert, he was very much part of a different kind of conquest.
As a colonizing power, France had an interest in exploring the central regions of the present-day United States. Less than a year after arriving in St. Ignace, Father Marquette joined an expedition to map and document this unknown region. Louis Jolliet, a native of New France, led the expedition. In 1672, Jolliet and Marquette, chaplain on the trip, traveled from Michigan to Louisiana and then back up north, exploring the area that is near the City of Chicago today. The group traveled south on the Mississippi River, turning around where the Arkansas River joins the Mississippi. Though the Jolliet-Marquette expedition could have continued even further south, the expedition halted here to avoid another colonizing power--the Spanish. Much as the French were beginning to explore and spread in the north, so were the Spanish in the south. To avoid a confrontation, the Jolliet-Marquette group returned north via the Mississippi and Illinois rivers and Lake Michigan.
Though the accomplishment of journeying almost the length of the United States in canoes alone is significant, the Jolliet-Marquette expedition is important for other reasons. Much of Jolliet's notes suffered damage during the trip, leaving those of Marquette as the primary record of this amazing journey. Marquette's notes established that settlement of the interior of New France was possible. A strong river, the Mississippi, ran from the north to the south, providing access and easily farmable land deep within French holdings. Though New France never expanded to fill the areas visited by Marquette and Jolliet, records of their expedition were invaluable to later explorers, and historians have found Marquette's notes on the various American Indian groups useful. Some of these later explorers established Arkansas Post, which is also included in this travel itinerary.
Father Marquette died in 1675 in present-day Ludington, Michigan. Although he was originally buried there, his followers moved his body to the chapel of the mission he established at St. Ignace. This mission is located at State and Marquette streets. Today, visitors to Father Marquette National Memorial can learn more about Marquette by viewing the memorial and walking an outdoor trail that includes signs with information about the life of this great French explorer.
Father Marquette National Memorial is located in St. Ignace, MI, west of Interstate 75, off US Route 2. The memorial is within Straits State Park operated by the State of Michigan. 

Father Marquette National Memorial is also included as part of the North Country National Scenic Trail.
Last updated: December 18, 2018