March Field Historic District
By Aviation: From Sand Dunes to Sonic Booms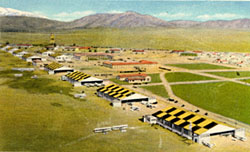 March Field in Riverside, California, was important in the development of the Army Air Corps, serving as the key training and bombardment facility on the West Coast between 1928 and 1943. The airfield is an example of incorporating city planning principles in the layout of military bases and as the first complete aviation post laid out and constructed during peacetime by the Quartermaster Corps and the Army Air Corps. The base is associated with architect Myron Hunt and stands as the only known military base to have been designed by him. On March 20, 1918, the airfield was named in honor of 2nd Lt. Peyton C. March, Jr. who was killed in an aviation accident at Fort Worth, Texas.
The field was utilized as a primary aviation training facility during World War I and continued serving in this capacity thereafter until 1921, one of only two primary pilot schools in operation after the war. However, after the passage of the Air Corps Act, March Field once again became a primary aviation facility from 1927 until 1931, when primary training was consolidated at Randolph Air Force Base. March continued to be the central base for West Coast bombing and gunnery training until 1941. Through the Air Corps expansion program March Field began its second phase with the construction of permanent facilities to reflect the regional topography, climate and history of the area, a trend incorporated into Army base construction during the mid-1920s. The new facilities were constructed in the Mission Revival style and are now believed to be the world's largest group of hollow-wall concrete buildings. Hangars, officers' quarters, industrial buildings, a hospital and base theater, are just some of the 228 buildings, structures and objects which comprise March Field Historic District. The buildings are generally surfaced in concrete, either stucco or poured concrete, and display clay Mission tile roofs.
Visit the National Park Service Travel American Aviation to learn more about Aviation related Historic Sites.
Last updated: August 29, 2017