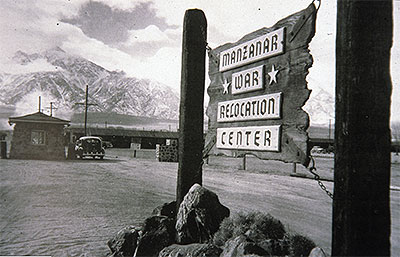 In 1942, the United States government ordered over 110,000 men, women, and children of Japanese ancestry to leave their homes in California and parts of Washington, Oregon, and Arizona. Under the guise of "military necessity," the U.S. Army established 10 military-style camps to house the people in remote areas, under guard, for the duration of the war. One of the camps was at Manzanar, in the Owens Valley of eastern California. At Manzanar, more than 10,000 people spent up to three years behind barbed wire simply because of their ancestry.
The World War II exclusion of Japanese Americans lasted from 1942 to 1945. Nearly forty years later, the Commission on the Wartime Relocation and Internment of Civilians concluded: "Executive Order 9066 was not justified by military necessity…The broad historical causes that shaped these decisions were race prejudice, war hysteria and a failure of political leadership."
At the heart of the experience lies the U.S Constitution and the rights and protections it promises all Americans. On March 3, 1992, Congress established Manzanar National Historic Site to preserve the history and educate the public.
Every person whose life was affected by that forced relocation has a story. At Manzanar National Historic Site, personal stories are shared through exhibits, a documentary film, and audio clips.