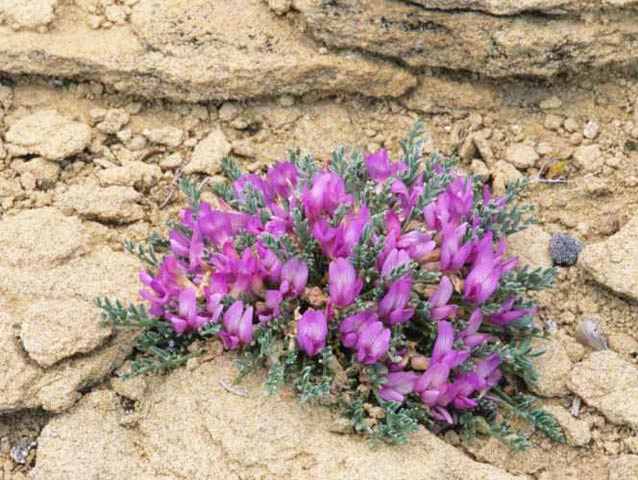 Mancos milkvetch (Astragalus humillimus) occurs in scattered populations on remote rimrock ledges and mesa tops in the Four Corners area of Colorado and New Mexico. Its habitat is very specific. It only occurs in shallow pockets of soil in the tan-colored units of Point Lookout sandstone, particularly at the bases of gentle inclines of slickrock, in cracks, and along the margins of bowl-like depressions in the otherwise flat rock. Because Mancos milkvetch has such a restricted habitat, biologists have speculated that the thin, exfoliated layers of Point Lookout sandstone may be an important physical habitat requirement, or the sandstone may contain a particular chemical element needed for the plant's growth. The habitats where Mancos milkvetch grows receive eight to nine inches of annual rainfall and occur between 1610 and 1830 m (5275 and 6000 ft) in elevation. There are 18 known populations.
Description
Mancos milkvetch is a perennial that grows in tufted mats close to the ground. Twelve to eighteen inches across, the mats are crowned with spiny leaf stalks. The stems, which are crowded with leaves, are up to 1 cm long. The leaves are composed of seven to eleven oval, light green, and softly hairy leaflets. After the leaves wither, the spiny leaf stalks persist on the plant.
From late April through early May, one to three lavender flowers bloom on each stem. The flowers have white veins and a conspicuous lighter-colored spot at the throat of the corolla tube. Their sweet smell attracts butterflies and honeybees. The fruits, which are egg-shaped pods with four to nine seeds, mature by mid-June.