Habitat and Ecology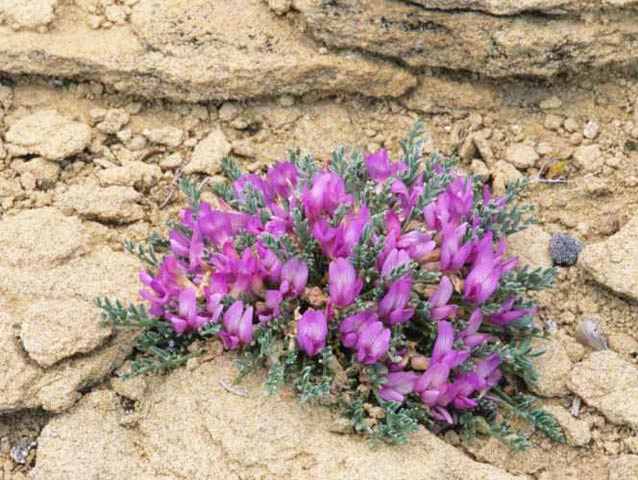 Mancos milkvetch (Astragalus humillimus) occurs in scattered populations on remote rimrock ledges and mesa tops in the Four Corners area of Colorado and New Mexico. Its habitat is very specific. It only occurs in shallow pockets of soil in the tan-colored units of Point Lookout sandstone, particularly at the bases of gentle inclines of slickrock, in cracks, and along the margins of bowl-like depressions in the otherwise flat rock. Because Mancos milkvetch has such a restricted habitat, biologists have speculated that the thin, exfoliated layers of Point Lookout sandstone may be an important physical habitat requirement, or the sandstone may contain a particular chemical element needed for the plant's growth. The habitats where Mancos milkvetch grows receive eight to nine inches of annual rainfall and occur between 1610 and 1830 m (5275 and 6000 ft) in elevation. There are 18 known populations.
Description
Mancos milkvetch is a perennial that grows in tufted mats close to the ground. Twelve to eighteen inches across, the mats are crowned with spiny leaf stalks. The stems, which are crowded with leaves, are up to 1 cm long. The leaves are composed of seven to eleven oval, light green, and softly hairy leaflets. After the leaves wither, the spiny leaf stalks persist on the plant.
From late April through early May, one to three lavender flowers bloom on each stem. The flowers have white veins and a conspicuous lighter-colored spot at the throat of the corolla tube. Their sweet smell attracts butterflies and honeybees. The fruits, which are egg-shaped pods with four to nine seeds, mature by mid-June.
Conservation Status and Threats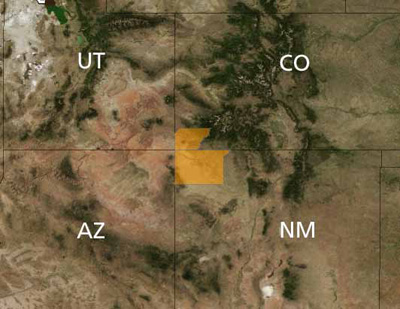 The U.S. Fish and Wildlife Service listed Mancos milkvetch as an endangered species on June 27, 1985. Colorado, New Mexico, and the Navajo Nation list it as critically imperiled.
The primary threats to Mancos milkvetch are mineral, oil, gas, and energy development. Activities associated with extracting these resources can destroy the plants and remove the soil pockets necessary for its establishment and growth. Mancos milkvetch is also threatened by plant collectors. Other potential threats include off-road vehicles, livestock grazing, and acidic deposition from power plant emissions. Mancos milkvetch does not always reestablish after disturbance.
Related species
Mancos milkvetch is most closely related to Flint Mountain milkvetch (Astragulus siliceus) and Wittmann's milkvetch (Astragulus wittmannii). It can be distinguished from these species by its persistent, spiny leaf stalks.
References
NatureServe. 2009. Astragalus humillimus. NatureServe explorer: An online encyclopedia of life. Version 7.1. NatureServe, Arlington, VA. Available at http://www.natureserve.org/explorer/ (accessed 16 June 2010).
U.S. Fish and Wildlife Service. 1985. Final rule to determine Astragalus humillimus to be endangered. Federal Register 50(124): 26568-26572.
U.S. Fish and Wildlife Service. 1989. Mancos milkvetch (Astragalus humillimus) recovery plan. U.S. Fish and Wildlife Service, Albuquerque, NM. Available at http://www.fws.gov/ecos/ajax/docs/recovery_ plan/891220.pdf (accessed 16 June 2010).
Prepared by Kelly Reeves, Southern Colorado Plateau Network Inventory and Monitoring Program, 2010.
Last updated: July 8, 2015