Chesterfield: Magnolia Grange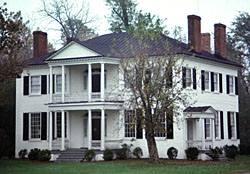 Magnolia Grange is Chesterfield County's finest Federal style plantation home. The federal style is characterized by a unification of parts, attentuated proportions, and delicacy of details. The house, which is located across from the Chesterfield Court House, is a conservative, but elegant, early 1800s building. Many of the owners and occupants of Magnolia Grange have held public office and were instrumental in dictating the county's political development. The name Magnolia Grange derives from a circle of magnolia trees and formal boxwood gardens that once graced the lawn, destroyed after the Civil War to cultivate further farmland.
The house was built by William Winfree in 1823 and stayed in the family until 1845. Winfree was descended from an early Chesterfield County family. After the house passed out of the Winfree family, it was sold to a succession of owners.  Several of Magnolia's owners faced financial difficulties and had to sell the property soon after buying it.
The well-preserved house was based on designs from Asher Benjamin's American Builder's Companion (1806), an architectural pattern book used widely by Virginia builders. The house retains virtually all of its ornate woodwork; most significant are elaborate ceiling medallions and the Federal mantels with slender Ionic columns supporting an embellished entablature and deeply molded cornice. The house was restored in the 1970s, with extensive marbelizing and the installation of Zuber scenic wallpaper. In 1984 the site was acquired by Chesterfield County and is now a museum administered by the Chesterfield Historical Society. A variety of living history programs offered at Magnolia Grange bring the 19th century to life.
Magnolia Grange was listed on the Virginia Landmarks Register on November 20, 1979 and the National Register of Historic Places on March 17, 1980. It is located at 10020 Iron Bridge Road, Chesterfield, VA 23932. For more information please visit: Magnolia Grange Tours or call: (804) 796-1479.
Last updated: December 19, 2016