Lujan-Ortiz House, New Mexico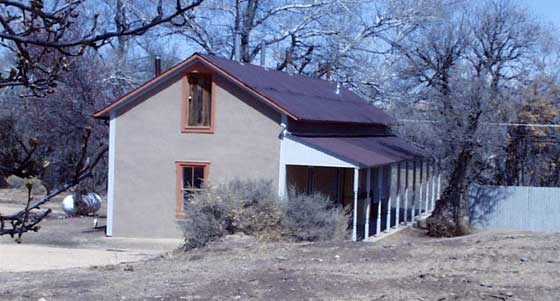 Constructed around 1900, the Lujan-Ortiz adobe home was built by Benito Lujan in what was then the New Mexico Territories. The Lujan family was part of the predominately Hispanic community that flourished in the Pojaque River valley, and this farm was typical of the subsistence farming and specialty crop production of the area. The small one-story adobe the family resided in for over fifty years was made of adobe brick walls approximately two feet thick covered with a mud plaster.

In 1923, the original three-room house was expanded with a fourth room. A pitched corrugated metal roof was also added, reflecting the growing Anglo influence as well as easier access to new building materials. The house did not have indoor plumbing and was heated with a woodstove in each room. In 1952 the property passed out of the Lujan family when Avelino Ortiz acquired the property, and the adobe house was used primarily for storage. A project to rehabilitate the building for rental use sensitively installed new systems while repairing and retaining its historic fabric. The Lujan-Ortiz house is one of several adobe buildings in the Southwest that have been rehabilitated as part of the Federal Historic Preservation Tax Incentives program.
Last updated: October 10, 2017