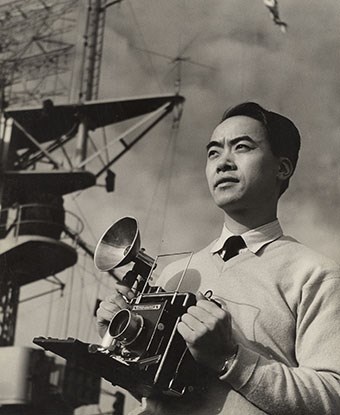 In the spring of 1942, after the bombing of Pearl Harbor brought about the entry of the United States into World War II, the Kaiser Shipbuilding Company established shipyards in Vancouver, Washington, Portland, Oregon, and Swan Island, Oregon. Construction on the ships moved at a rapid pace. By July, the shipyard at Vancouver had launched its first Liberty ship, the USS
George Vancouver
.
When the war began, Louis S. Lee was a 29-year-old waiter working in Portland, Oregon, with his wife, Dorothy. However, as it did for many people, the war brought new opportunities for Lee, and he became a staff photographer for the Kaiser Shipbuilding Company. In this position, Lee documented special events and everyday work at the shipyards. Lee was also president of the yards' Three Year Club, an organization for workers who had worked for Kaiser for three years.
The shipyards operated around the clock and set new production records. By war's end, the Vancouver shipyard had launched ten Liberty ships, 30 landing crafts, 50 escort aircraft carriers (baby flat tops), 31 attack transports, 12 C-4 troop ships, eight C-4 cargo vessels, and two 14,000-ton drydocks.
His photographs are both artistic and documentary and they provide a fascinating window into life and work at the shipyards.