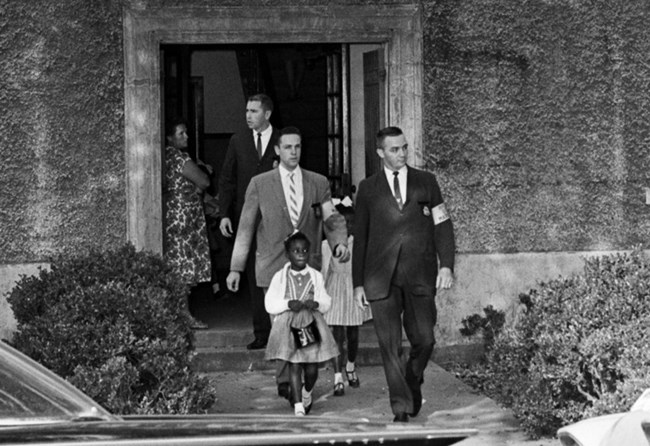 Leona Tate was only six years old when she became a civil rights activist and leader. On November 14, 1960, Ms. Tate, alongside Gail Etienne and Tessie Prevost desegregated the previously all-white McDonogh #19 public school. These girls, escorted by federal marshals, were the first black students to attend an integrated public school in Louisiana. Nearly 50 years later, the 2009 historic election of America's first black president birthed a renewed sense of activism in Ms. Tate. Only a few months later, she founded the Leona Tate Foundation for Change. This foundation is dedicated to the principle that in order to achieve harmony among humankind, every person should be afforded comparable opportunities and exposures. A component essential to implementing this principle is providing access to equal educational opportunities for greater New Orleans area youth.
Today, the foundation has a new mission - transforming the McDonogh #19 school building into The Tate, Etienne, and Prevost (TEP) Interpretive Center. Despite the seminal history of the school and being entered into the National Register of Historic Places in 2016, the building has remained vacant and blighted for 13 years following its closure in 2004 and the subsequent devastation of the Lower 9th Ward by the Katrina levee failures. Turning McDonogh #19 into the TEP Interpretive Center will provide the following: (1) The first New Orleans Civil Rights exhibit and educational space that is dedicated to teaching New Orleans' Civil Rights history. (2) A "Communiversity," a place to learn from one another and teach community the dynamics of racism and humanistic organizing through classes that range from early childhood to higher education. (3) 25 subsidized, affordable apartments for area seniors.


The African American Civil Rights Grant Program, which works to document, interpret, and preserve the sites and stories related to the African American struggle to gain equal rights, is contributing funding for the ongoing rehabilitation work at McDonogh #19 in preparation for the TEP Interpretive Center.

The African American Civil Rights Network (AACRN) recognizes the civil rights movement in the United States and the sacrifices made by those who fought against discrimination and segregation. Created by the African American Civil Rights Act of 2017, and coordinated by the National Park Service, the Network tells the stories of the people, places, and events of the modern U.S. civil rights movement from 1939 -1968 through a collection of public and private elements.