Charles City County: Lott Cary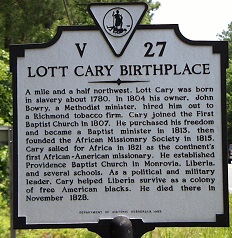 Born into slavery in 1780, Lott Cary was a Baptist minister and lay physician.  Cary had saved money from being hired out in Richmond.  John Bowry, his owner, was a planter and Methodist minister. In 1807, Cary joined the First Baptist Church of Richmond.   It was a congregation of free black, slaves, and whites. His education began by his learning to read the Bible. He later attended a small school for slaves, who were taught by Deacon William Crane. Crane met with his students three evenings a week to teach the three R's: reading, writing, and arithmetic. As he became more educated, Cary began working as a shipping clerk and supervisor of tobacco workers. Bowry often rewarded Cary with $5 bills and allowed him to collect and sell small bags of waste tobacco.  
In 1813, Cary's first wife died. He purchased his freedom and that of his children when he was 33 for $850.  In 1821, he migrated to Liberia with his second wife, who later died of disease. He was one of the first black American missionaries and one of the first Baptist missionary to Africa. He founded the first church there, as well as schools, and helped lead the colony. In August 1828, Cary became the acting governor of Liberia. He later died from an injury sustained while making bullets.
His house in Charles City County was a modest wood-frame structure with 1 1/2 stories. Not much of the original house is left. It is currently used as a private residence and it not open to the public. Outside the home, at the intersection of Highway 155 and 602, is a historical marker. It is likely that Lott was born in the slave quarters adjoining the house, rather than the actual home. The site was listed on the National Register of Historic Places on July 30, 1980.
Last updated: August 16, 2017