Article
Lofthus Shipwreck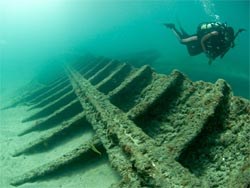 The
Lofthus
shipwreck is one of the few remaining examples of iron-hulled sailing vessels from the late 1900s. Originally named the
Cashmere
, the vessel was built in Sunderland, England by T.R. Oswald. It was launched on October 5, 1868. Owned by the Liverpool Shipping Company and managed by H. Fernie & Sons, the
Cashmwere
was intended to travel the globe. To deter Sumatran and Javanese pirates, false gunports were painted along her sides. The vessel was made of riveted iron, with the barque measuring 222 feet in length, 36.7 feet in beam, with a depth of hold of 22.7 feet. The ship was rated at 1, 277 gross tons with two decks and one cemented bulkhead. In 1897, the
Cashmere
was sold to a Norwegian named Henschien and renamed the
Lofthus
and transferred to the American trade.
On February 4, 1898, while en route from Pensacola to Buenos Aires with a cargo of lumber, the vessel wrecked on the east coast of Florida. The local sea-going tug
Three Friends
attempted to assist the stranded barque, but it was too high on the beach and was being destroyed by the pounding waves. The
Three Friends
was usually engaged in running guns to Cuba. The 16 man crew was saved but the vessel was a total loss. While stranded on the beach,
Lofthus
' Captain Fromberg entertained local resident's and gave the ship's dog and cat to one family. After being stripped of all usable items, the wreck was sold along with 800,000 feet of lumber stowed in the hold for $1,000. In September 1989, the hull, which was not as valuable as the cargo, was dynamited to the lumber could be salvaged.
The blasting of the hull produced a scattered wreck site approximately 290 feet long by 50 feet wide, with three main areas of wreckage. The ship's bow is at the north end of the site and includes deck beams and hull elements. Visible in the midships area are deck beams and plats together with fasteners, hanging knees and a worm gear. The worm gear is believed to be associated with the vessel's steering mechanism or with a deck mounted donkey engine. Toward the stern, a section of iron mast and pieces of decking and beams protrude from the sand. The
Lofthus
has stabilized in the marine environment. Through future archaeological investigation, the wreck can provide information about late 1900s merchant ships.
The Lofthus is located approximately 3/4 of a mile north of Boynton Beach and 175 yards off-shore of Manalapan. It rests in 15-20 feet of water, with wreckage rising as much as six feet off the sea floor depending on sand movement. The shipwreck is located within a Florida Underwater Archaeological Preserve, and a laminated underwater guide is available from local dive shops. The preserve is open to the public year round, free of charge. To avoid anchor loss or damage to the shipwreck, please anchor in the sand.
Florida's Shipwrecks: 300 Years of Maritime History features a Teaching with Historic Places online lesson plan, The Spanish Treasure Fleets of 1715 and 1733: Disasters Strike at Sea. This lesson plan has been produced by the National Park Service's Teaching with Historic Places program, which offers a series of online classroom-ready lesson plans on registered historic places. To learn more, visit the Teaching with Historic Places home page.
Last updated: September 27, 2017