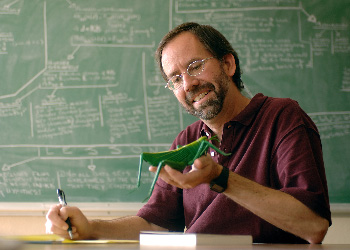 To see a World in a Grain of Sand
And a Heaven in a Wild Flower
Hold Infinity in the palm of your hand
And Eternity in an hour

—William Blake, "Auguries of Innocence"
Let's begin with the overwhelmingly obvious. There's a huge mountain (Denali, 20,310 feet) in a gigantic national park (Denali, about the area of Vermont) in an absurdly large state (Alaska, about the area of two Texases and one California). And the park is filled with humongous creatures like caribou (400 pounds), grizzly bear (600 pounds), and moose (1200 pounds). The curtain of northern lights that we call the aurora borealis would weigh 700 million tons if it was an actual theater curtain.
Denali National Park has a single, 92-mile road. If you figure that most visitors don't wander more than a half-mile from the road (a good bet), then the swath of land trod by the vast majority of humans is about 1 percent of the park's area. But let's say someone decided to hike the perimeter of Denali at a pace of 1 mph (the boreal forest and willow thickets would offset a quicker pace on the alpine tundra) for six hours per day, it would take about two months.
The temptation for an artist is to capture and express this enormity. At least this is pattern for visual artists. In my Google image search with "Denali National Park," the first 100 pictures showed unfathomably large landscapes or megafauna, except for one image of a ptarmigan. And in terms of the literary arts, James Michener's Alaska runs to 868 pages (Michener's Texas is longer although by proportionate area it should only have been 347 pages).
Being something of a contrarian and an entomologist (maybe these are somehow related), I decided to write about the little stuff that nobody seems to celebrate. And with a background in science, I decided to take a systematic and quantitative approach to my 10 days in a remote cabin as a guest of the superintendent.
The first step was to decide on an appropriately small scale for my observations and inspirations. Suppose that instead of 9,500 square miles, the park was a trillion-fold smaller or 38 square inches. This area would be encompassed by a piece of string 22 inches long. So, I brought along a two-foot piece of string (close enough with rounding errors), tied it in a loop and that was my viewing context for my writing each day I spent at the park.
The next step was to decide on how many words I'd be allowed for each piece of writing. This too should be appropriately miniaturized. For this I analyzed the three books that came to mind when I thought about Alaska: Jack London's Call of the Wild (37,058 words) and White Fang (72,071 words), along with James Michener's Alaska (560,584 words). If I was going to shrink Denali by a trillion-fold, it seemed appropriate to condense my writing by a thousand-fold. So I decided that I'd write micro-essays of 37 words (Call of the Wild) or 72 words (White Fang) about whatever I saw in my little chunk of the park.

What about Michener's tome? It's not high literature although he did win a Pulitzer for Tales of the South Pacific. I brought the book along on my trip (full disclosure: I didn't read the whole thing). One might think that half-a-million words are plenty, but I figured that one of my pieces could justify 560,584 words. That's how many are in this introduction to the shorter pieces that foll...