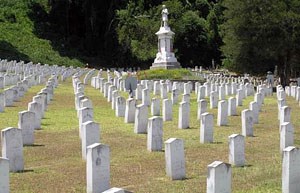 In August 2010, while preparing a grave site for a rare burial of a World War II veteran at the Vicksburg National Cemetery in the Vicksburg National Military Park in Vicksburg, Mississippi, cemetery workers were dismayed to find that the plot was already occupied by a casket. There was neither a headstone nor a record of interment in the space to suggest that the plot was occupied. Curious about the discovery, workers opened an adjacent plot, which was also believed to be empty. This, too, was occupied by an unmarked and unrecorded casket. The unmarked interments were located in newer sections of the cemetery that, according to records, were opened in the beginning of the 1940s. National Park Service (NPS) staff at Vicksburg promptly began efforts to identify the graves and determine if any more unmarked and unrecorded burials existed. NPS archeologists assisted park officials at Vicksburg National Cemetery to locate additional unmarked and unrecorded burials, and sift through decades of archives to identify the unknown, buried individuals.
National Cemeteries
In July of 1862, Congress passed legislation giving power to the president to purchase lands that would establish national cemeteries for soldiers that died in service of the United States. The first to be established was Arlington National Cemetery in Arlington, Virginia, in 1864. Today there are a total of 146 national cemeteries. Most are maintained by the Department of Veteran Affairs; two by the U.S. Army.
In 1933, at the onset of government reorganization, the NPS inherited 14 national cemeteries from the War Department, an earlier form of the current Department of Defense. Vicksburg National Cemetery is one of the 14 national cemeteries administered by the NPS. The earliest burials in NPS national cemeteries occur at Yorktown National Cemetery, within the Colonial National Historical Park in Virginia, which contains Revolutionary War burials. Additionally, the Chalmette National Cemetery, within the Jean Laffite National Historic Park and Preserve in Louisiana, has four burials from the War of 1812. The remaining 12 date to the Civil War and contain burials from fallen soldiers thereafter.