Lighter-than-Air Ship Hangars
By Aviation: From Sand Dunes to Sonic Booms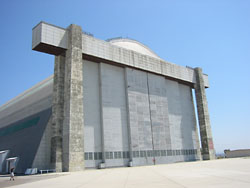 The Lighter-than-Airship Hangars in Tustin, California, are two of a series of hangars that were built in 10 different locations throughout the United States. These hangars mark a significant period of aviation history, when airships were an important part of the U.S. anti-submarine defense. Each hangar was capable of sheltering an entire squadron of six airships. All were built using the same plans and construction began during the early years of World War II. These airship hangars are among the largest wood-supported structures in the world, rivaled only by the other hangars built from the same plans such as the U.S. Naval Air Station Dirigible Hangar B. The hangars stand 189 feet high to the top of the wind indicator, and 178 feet to the top of the roof, and have long been considered landmarks in Orange County. The hangars are 1088 feet long and 297 feet wide, covering a total ground area of 298,188 square feet.
The hangars were completed in 1943 when the air station was Santa Ana Naval Lighter-than-Air Base. The hangars were constructed in three main sections; two identical supporting structures of concrete located at each end of the hangar with a massive center section covered by a wood-framed, 484,932 square-foot arched roof. The end sections consists of two pillars, six huge doors and a brace connecting the two pillars at the top. The pillars are used as "pockets" to house the hangar doors (three in each pillar). The brace is also used as a guide for opening and closing the doors. Fifty-one individual wooden braces support the roof. Following World War II, the base was decommissioned. During the period 1949-1951 the hangars were used as a museum for aircraft and a storage area. In 1951 the base was recommissioned and the hangars were used to house helicopter squadrons during the development of the vertical assault, a new military strategy to utilize the quickness and flexibility of helicopters in attacks. The base has recently been decommissioned again. Plans are currently being developed to adaptively reuse the hangars.
The Lighter-than-Airship Hangars are located on Valencia and Redhill aves., in Tustin, California. They are currently not open to the public but can be seen from these avenues.

Visit the National Park Service Travel American Aviation to learn more about Aviation related Historic Sites.
Last updated: August 29, 2017