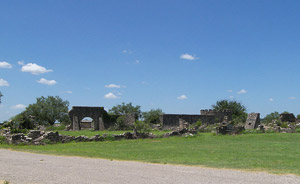 This is an essay from the Spanish Missions of the Southwest Travel Itinerary  
Histories of life in Spanish missions -- some controversial, others romanticized -- have had an influence on how we view our Spanish colonial past in North America and our national heritage and story. Beyond bucolic vistas of colonial churches and fields, the missions had many purposes. They were places for religious conversion and served as acculturation and economic centers, vocational training schools, and defensive structures. The complex history of Spanish missions reveals the native struggle for independence throughout the Americas. Rebelling tribes quickly returned to their old native ways while preserving Christian practices and values, which they had integrated into their traditions and customs. Thus, Spanish influences made their mark on cultures that survive to the present day.
No one will ever know why individual Indians, who came into Spanish missions, committed themselves to conversion, acculturation, and servitude. In some cases, the missions came to them, as they did to the Pueblos of New Mexico. Once in the mission neophytes, or new converts, would be expected to remain there until they were perfectly converted, that is, made into full members of the congregation. During the Spanish colonial mission period, perfect conversion was rare, as was the conversion of an entire tribe or pueblo to Christianity. Tradition has it that the missionaries never forced anyone into a mission, but once there, they could not leave. Those who ran away were often tracked down and returned to the mission. Those who did not succumb to the missionaries became enemies, who saw the friars as threats to their cultures, beliefs and spiritualism. Between conversion and rebellion, the missionaries' work was not for naught, for a kind of religious and cultural merging evolved that is evident today where missions once stood.
Who were the missionaries? What inspired them to renounce the world to live a life of piety and poverty and to surrender their lives for their God? They led lonely lives, in constant danger and fear for their lives. Along with their Indian charges, they, too, toiled in the missions, farmlands and ranches. They were responsible for those who lived with them and their welfare, often being the first to rise in the morning and, after bed check and prayers, the last to go to bed. To be sure, they were tough frontiersmen, who believed that the discipline they meted out to their neophytes was for their own good. They viewed Indian cultures, ways, and beliefs through the lens of Spanish colonial eyes and held European attitudes toward the natives.