Nominating LGBTQ Places to the National Register of Historic Places and as National Historic Landmarks: An Introduction
By Megan E. Springate and Caridad de la Vega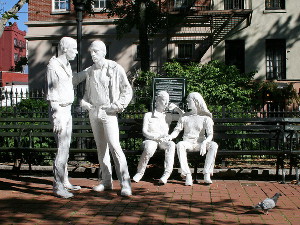 The National Register of Historic Places (NRHP) and the National Historic Landmarks (NHL) program are two of the many ways that historic places can be identified, remembered, and preserved. Both of these programs are overseen by the National Park Service (NPS), and to be added to these lists properties (sites, buildings, structures, objects, districts) must meet certain criteria.[1] This chapter provides an introduction to the NRHP and NHL programs as well as a discussion about evaluating and listing LGBTQ places that will be of use both to those interested in nominating properties as well as those in the various State Historic Preservation Offices, Tribal Historic Preservation Offices, and Federal Historic Preservation Officers who will be evaluating LGBTQ nominations. It does not replace registration requirements or any of the official guidance published by the NPS on nominating places to these programs.[2] Read more » [PDF 2.0 MB]
---
[1] The term "property" is used when referring collectively to sites, buildings, structures, and objects, and is also used to refer generically to sites, buildings, structures, or objects. Other ways of recognizing historic places include site preservation, local or state historic markers, walking tours, public talks, museum and historical society exhibits, preservation of archival materials and artifacts, and publications.
[2] Information on the NPS website and bulletins published by the NPS contain much more extensive and complete information, and should be referred to when writing nominations or nomination amendments. https://www.nps.gov/nr/publications/index.htm.
The views and conclusions contained in the essays are those of the authors and should not be interpreted as representing the opinions or policies of the U.S. Government. Mention of trade names or commercial products does not constitute their endorsement by the U.S. Government.
Last updated: August 11, 2017