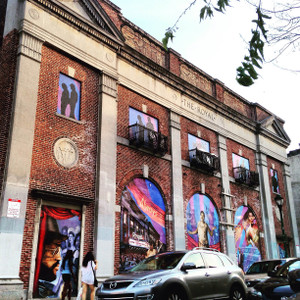 This chapter focuses on LGBTQ art and artists in the United States. Due to the scope of this essay the content is necessarily limited. These locations provide a sampling of LGBTQ contributions to broader social milieus and artistic movements. I have attempted to provide content that is representative in terms of region, diversity, and historical scope.[1] Artworks range from performance to the visual arts; places range from murals to theaters to community centers. Two key characteristics have shaped the histories of the places listed in this chapter: multiple identities and historical context. Although the historical scope of this essay is limited to the twentieth century, there are examples of LGBTQ arts in the United States as far back as the eighteenth century.[2] Read more » [PDF 2.0 MB]
---
[1] There are several excellent resources on LGBTQ art and artists, including: James Saslow, Pictures and Passions: A History of Homosexuality in the Visual Arts (New York: Viking Penguin, 1999); Harmony Hammond, Lesbian Art in America: A Contemporary History (New York: Rizzoli, 2000); Christopher Reed, Art and Homosexuality: A History of Ideas (New York: Oxford University Press, 2011); Richard Meyer and Catherine Lord, Art and Queer Culture (New York: Phaidon Press, 2013); and Claude J. Summers, ed., The Queer Encyclopedia of the Visual Arts (Jersey City, NJ: Cleis Press).
[2] In the collection of the New-York Historical Society, Portrait of an Unidentified Woman (c.1700-1725) has long been identified as a likeness of Edward Hyde, who served as Governor of New York and New Jersey from 1702-1708 and was known to appear in public wearing women's clothing. Pre-twentieth century artists of note who engaged in homoerotic themes include the photographers F. Holland Day, Frances "Fannie" Benjamin Johnston, and Alice Austen, and the painter Thomas Eakins. The Fred Holland Day House is located at 93 Day Street, Norwood, Massachusetts; it was listed on the NRHP on April 18, 1977. Clear Comfort, the Alice Austen House, is located at 2 Hylan Boulevard, Staten Island, New York. It was listed on the NRHP on July 28, 1970, and designated an NHL on April 19, 1993. The Thomas Eakins House is located at 1729 Mount Vernon Street, Philadelphia, Pennsylvania; it was listed on the NRHP on October 15, 1966 and designated an NHL on December 21, 1965.
The views and conclusions contained in the essays are those of the authors and should not be interpreted as representing the opinions or policies of the U.S. Government. Mention of trade names or commercial products does not constitute their endorsement by the U.S. Government.
Last updated: November 10, 2021