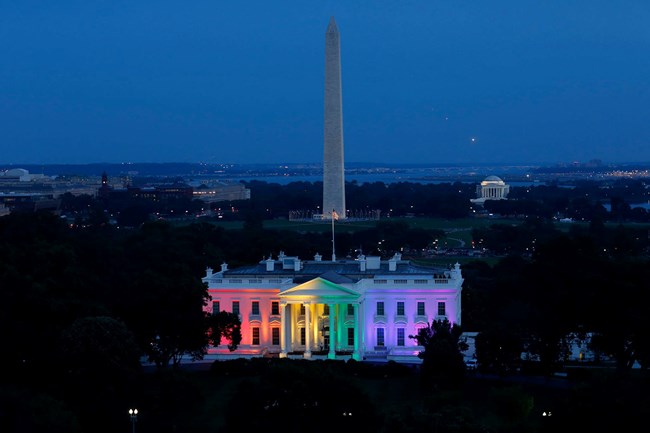 In many ways, the stories of lesbian, gay, bisexual, transgender, and queer (LGBTQ) Americans have been obscured and erased throughout history. The threat of physical harm and persecution led many to live a closeted lifestyle. Historical references to LGBTQ individuals and their contributions to American heritage are rare and in many examples, the prejudiced attitudes of the author are obvious. However, in recent decades, scholarly work and grass roots efforts have focused on uncovering the hidden history of LGBTQ communities, and expanding our understanding of American heritage.
The term "LGBTQ" is meant to be an inclusive way of referring to those who identify with any of the groups represented, as well as those who simply do not identify as heterosexual. For some, the term "queer" resonates as a hateful slur. Others feel that the term has been successfully reclaimed by those who identify as LGBT, and use the term queer as a broad sort of shorthand. The conversation around these terms is young and evolving. Engaging with some of the sites and stories related to queer heritage is a good way to begin to understand the history and meanings behind these terms.
Through the National Park Service's LGBTQ Heritage Initiative, we can connect these stories with the landscape. Uncovering these stories gives us a truer understanding of our American heritage, and a new way to see the connections between diverse American experiences. From the Midwest to the Pacific Islands, from New York's Fire Island to San Francisco's Castro, LGBTQ heritage takes many shapes. In the following series, you'll find the stories of doctors, musicians, painters, soldiers, priests, and potters. Their lives were indelibly affected by their physical and cultural landscapes, and in turn, they helped shape the nation we call home.