Lewis and Clark State Park (Iowa)
In honor of the 50th anniversary of the National Trails System, five special dogs, the Lewis and Clark Pups, will travel in the paws of their ancestor Seaman, dog of Meriwether Lewis. The pups will travel more than 3,700 miles to complete their mission to commemorate and protect the Lewis and Clark National Historic Trail. They will be joined by Seaman Jr. who will complete his portion of the mission on the International Space Station.
As they make their stops they will be reporting back in on their adventures. Follow Rocky, Harper, Dakota, Keelie and Seaman Jr. at:
https://www.nps.gov/lecl/newfie-news.htm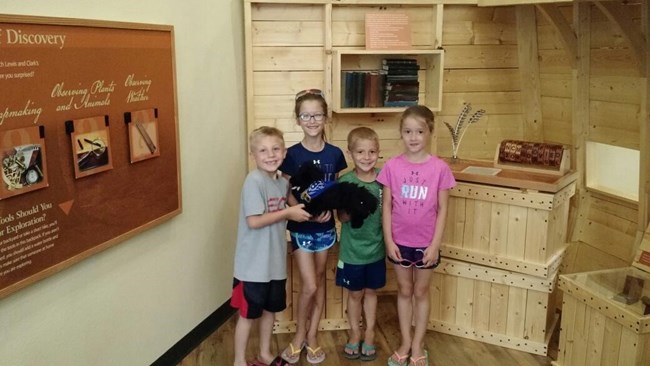 Rocky here! Today I went to
Iowa
to visit
Lewis and Clark State Park
and experience one of the many sites that the Corps of Discovery stopped at during their adventure. Here I am getting spoiled by some of the young park visitors. They are learning about the expedition too! We got to see lots of cool stuff inside this building where we learned about what Lewis and Clark saw and did while they were here.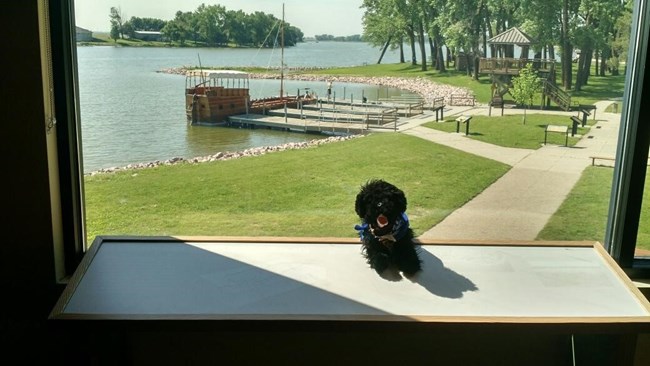 Here's my favorite selfie I took with the water keelboat and beautiful Blue Lake behind me. I learned this is an oxbow lake formed by the Missouri River, and it's really big for a puppy like me – its 250 acres! I saw people enjoying the water and having fun. You can even see someone right there on the dock fishing! I also learned if you have a big enough group of people, you can make an appointment to take a boat ride on the keelboat; I can't wait to come back to do that and feel the wind in my fur! You can see the start of a trail too, where I: went for a hike, had a picnic lunch, visited the campgrounds, saw some deer, and found lots of birds to chase after.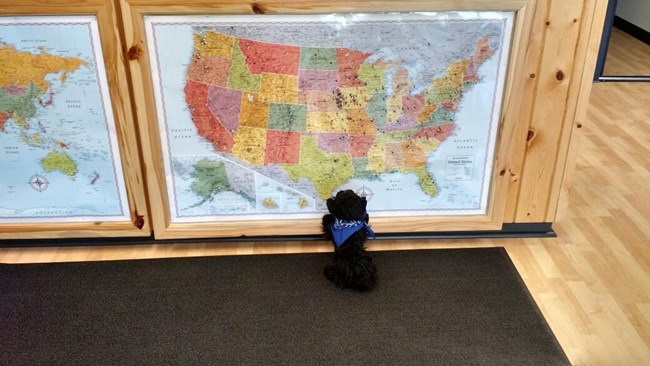 I am amazed to see how many people from all over the world have come here to have fun and learn about Lewis and Clark! I made sure to put a pin in this map to mark where I came from so everyone will know I was here.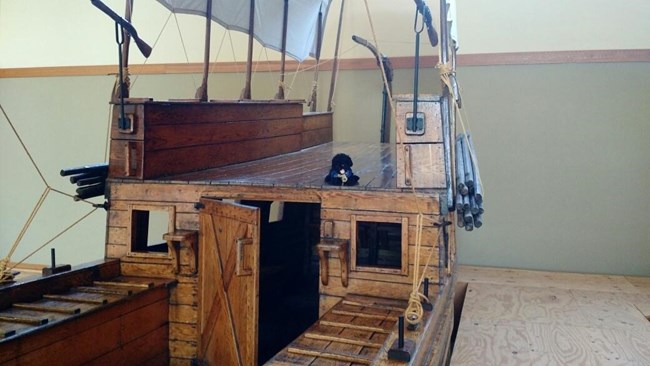 Here I am enjoying a replica of the keelboat that the Corps of Discovery used on the expedition. Lewis and Clark State Park has a replica of every type of watercraft used on the expedition – a keelboat, two pirogues, a dug-out canoe, and a bull boat. It's so cool to see how Lewis and Clark made their way across the country!
I had so much fun here today and can't wait to come back!
Learn more about Lewis and Clark State Park:
Website
Learn more about the Lewis and Clark National Historic Trail:
Website
Facebook
Instagram
Newfie News Blog
Last updated: August 13, 2018