Lewis and Clark on the Kansas/Nebraska border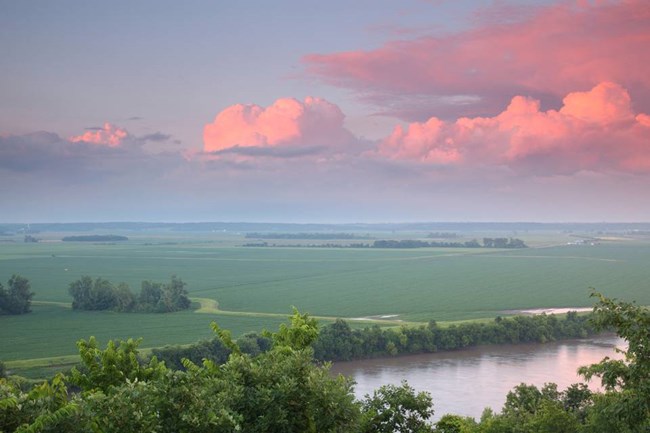 The Corps of Discover stopped just south of the Kansas/Nebraska border – White Cloud and Highland, Kansas in 1804. According to local legend, their names are said to be carved in a stone somewhere close to today's White Cloud. This was the land of the Ioway tribe. After Lewis and Clark, the tribe's chief, Ma-Hush-Kah, or White Cloud, lived near the river at a place called Iowa Point in a double-hewn log house.
Located on the bluffs of the Missouri, White Cloud would become one of the earliest and grandest towns in the new Kansas Territory in 1856. The port town was a popular stop for the big steamships. Today, a town of approximately 200 residents, White Cloud is the seat of government for the Iowa Tribe of Kansas and Nebraska.
North of town, you'll find Four State Lookout – with spectacular views of Kansas, Missouri (just across the river), Nebraska (just three miles north) and Iowa (about 60 miles northeast). The rolling loess hills of the glacial hills region spread out before you.
In nearby Highland, a major exhibit highlighting the impact of the Corps of Discovery upon the tribes inhabiting the woodlands and prairies along the Missouri River has been developed by the Iowa and Sac & Fox Mission in cooperation with the Iowa Tribe of Kansas and Nebraska. A drive-through historic site includes interpretive signage that showcases the history of the tribes and the Presbyterian mission, which opened in 1845 and closed in 1863.
Last updated: June 1, 2018