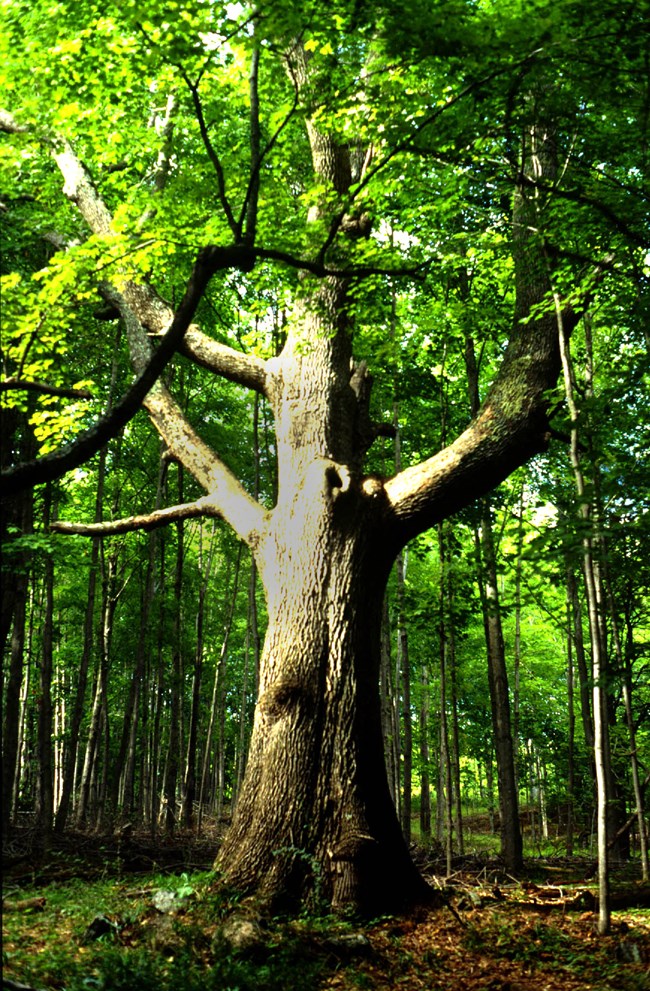 By NETN Ecologist Kate Miller.
As NETN's Plant Ecologist, I have spent that past 10 years monitoring forest health in national parks across the eastern U.S. Forest conditions for Network parks vary from site to site, but a general rule of thumb is that more northerly parks tend to be in better condition and suffer less from regional stressors. The overall good news for all parks is that they preserve areas of older forest habitat that are of regional significance, consistently housing more coarse woody debris, higher densities of large trees, and higher proportions of late successional forest than surrounding forest lands. That said, our study plots indicate that these parks have lower levels of coarse woody debris and snags (standing dead trees) than needed to support the full range of wildlife dependent on these features. As park forests continue to develop, we expect them to become even more important sites of older forest habitat.
The bad news is that forests in NETN parks are threatened or already under attack by a number of serious stressors, including invasive plant species, deer overabundance, exotic forest pests, and climate change to name a few. Issues of deer overabundance and invasive species, which tend to go hand-in-hand, are most extreme in New Jersey's Morristown NHP. As indicated by lack of seedlings, saplings, and even small trees. Tree regeneration has failed to reach the canopy for many years - possibly decades - in park forests. When natural canopy disturbances do occur (blow downs, etc.), there aren't enough sub-canopy trees to fill in the gaps, and the canopy may become sparser over time. While less extreme than in Morristown, we also see considerable impacts from high deer levels in New York's Roosevelt-Vanderbilt NHS and Saratoga NHP, as well as Connecticut's Weir Farm NHS. Not coincidentally, invasive species are also abundant in these parks. Exotic shrub thickets, which thrive both in high deer densities and in disturbed soils (e.g., historically plowed fields), are causing problems throughout NETN parks, including in Morristown NHP, Minute-Man NHP (Massachusetts), and Saratoga NHP. Invasive species and deer are less abundant in NETN's more northern parks, including Acadia NP (Maine), Marsh-Billings-Rockefeller NHP (Vermont), and Saint-Gaudens NHS (New Hampshire), and we encourage managers to try their best keep it that way!