By Aviation: From Sand Dunes to Sonic Booms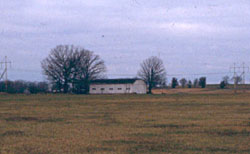 The Larson Brothers Airport was the first airport in Winnebago County and one of the earliest Wisconsin airports outside Milwaukee. It housed the first Wisconsin agency selling government approved planes, and for 20 years served as a center for state aviators. This well-maintained airport represents one of the earliest forms of airport design in Wisconsin. The first airport in Wisconsin was established at Milwaukee in 1919, followed soon after by similar facilities at Green Bay, Janesville, LaCrosse and Racine. Among these early airports was the Larson Brothers Airport, which opened in the town of Clayton in 1922. It was the first of three in Winnebago County, followed by Oshkosh Airport in 1927 and Whiting Airport in the town of Menasha in 1928. Of those three airports the Larson Brothers Airport is the only one to mantain its original hangar and sod landing field. The Whiting Airport closed in 1930, the hangar now converted to retail use and the field subdivided. The Oshkosh Airport remains in use as Wittman Airport with greatly expanded facilities and paved runways.
Four young farmers developed the Larson Brothers Airport: Roy, Clarence, Newell and Leonard Larson. They began by clearing an 80-rod long runway behind the barn of their family farm. In 1924 they built a six-plane hangar modeled after designs in an aviation magazine. At first they only gave lessons and ran a flying circus, touring county fairs and "barnstorming" throughout the Midwest; with the construction of the hangar they were able to accommodate transient as well as local aviators. They also built and serviced planes, forming the Roy Larson Aircraft Company in 1926. In 1927 the Larson brothers incorporated all their activities under the name Wisconsin Airways. While modest in size and appearance, the facilities were comparable to those in more metropolitan areas. The Larson Brothers Airport also enjoyed a statewide reputation in spite of its rural location. Students Clyde Lee and Merle Zuehlke went on to instruct and manage at airports in Milwaukee. Lee attempted a trans-atlantic flight to Oslo in 1932. Major James Wood of Wausau and Howard Morey of Madison began airlines with airplanes purchased here. Elwyn West, another pioneer aviator, stored his airplane here. In 1924 Roy Larson flew from this airport barnstorming the state for the LaFollette-Wheeler presidential campaign, and in 1928 flew passengers and supplies to president Coolidge's camp on the Brule River. By 1932 the Larson Brothers Airport had achieved sufficient notice among state aviators to be lionized in the Milwaukee Journal as the "finest airport in the state."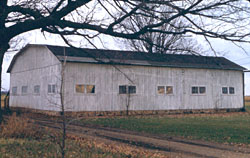 Ultimately its rural location contributed to the airport's decline. After 1930 sod landing fields gave way to cinder runways, which in turn were paved and lengthened as airplanes increased in size and power. The high cost of these improvements caused many small airports to close, the fields returning to farms or lost to city expansion. The rapidly changing technology also transformed metropolitan airports, removing all traces of their modest origins. In the face of these changes the Larson Brothers Airport continued operation until closed by federal mandate at the outbreak of World War II. Leonrad Larson maintained the airport for his family's use. The hangar is a one-story rectangular building of frame construction with a gambrel roof, verticle lap siding, and fieldstone foundations.


Visit the National Park Service Travel American Aviation to learn more about Aviation related Historic Sites.
Last updated: September 3, 2017