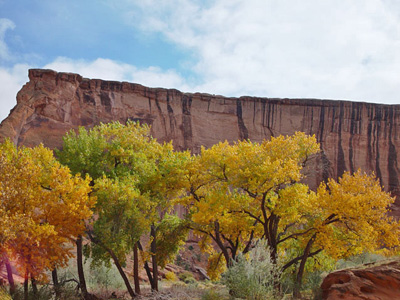 Phenology refers to the timing of annual biological events, such as migration, nesting, and the greening up and flowering of plants. Phenology is affected by environmental factors, especially climate. For example, early warming temperatures can cause plants to flower earlier, which could affect migrating birds. Changes in the timing of natural events can have profound effects on organisms and ecological processes, making phenology an indicator of ecosystem responses to climate change.
Land surface phenology describes vegetation change that can be observed through satellite remote sensing. It can reveal landscape-scale climate/vegetation interactions and associated ecosystem changes. The extent and duration of snow cover is tied to the same seasonal cycles that drive change in vegetation phenology and affect other ecosystem processes, such as the quantity and timing of soil moisture recharge, runoff, and stream flow. Changes in snow depth and duration at higher elevations may lead to significant shifts in the timing and amount of runoff, which may also influence growing season dynamics and net primary productivity in the region (Lundquist and Roche 2009, Pederson et al. 2011).
Broad scale patterns in vegetation type and condition reflect recent and past climates and their interactions with geologic substrate, slope, aspect, elevation, and disturbance agents. The climate of the Colorado Plateau is characterized by erratic moisture availability, warm to hot growing seasons, and winters with sustained periods of freezing temperatures. Annual precipitation is bimodally distributed between the winter months and the summer monsoon.
On the Colorado Plateau, climate change is predicted to bring higher temperatures, decreased precipitation, earlier and reduced snowmelt which will result in longer fore-summer droughts, and a longer growing season (Figure 1). The results are likely to include heat waves, increased drought and water stress, insect outbreaks, and a greater number of large, severe wildfires. (BLM 2014, Lenart 2007, International Panel on Climate Change 2014).