Lake Meredith National Recreation Area Awarded 2016 Pulaski Award
The Pulaski Award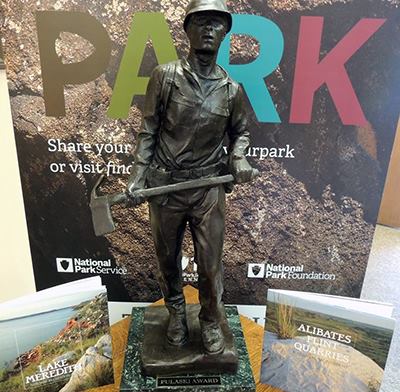 The Pulaski Award recognizes groups demonstrating outstanding performance in the areas of:
Interagency collaboration, cooperation, and coordination
Safety of wildland firefighters or the American public during a wildfire
Outstanding group performance in fire management and fire operations activities
Outstanding performance on a wildland fire management project or activity
Development of partnerships or communication tools
On May 10, 2016, the Governing Board at the National Interagency Fire Center selected the fire management and law enforcement staff at Lake Meredith National Recreation Area as the winners of the 2016 Pulaski Award for actions in advance of and during the Double Diamond wildfire of May 11, 2014.
The Double Diamond wildfire started in the town of Fritch on May 11, 2014 and quickly spread onto Lake Meredith National Recreation Area (NRA). Resources from the Fritch, Borger and Stinnett Fire Departments, Hutchinson County EOC, Sheriff's Office, the National Park Service, and Texas A&M Forest Service, along with numerous fire departments and public safety organizations helped contain the fire at 2,202 acres. Approximately 747 private acres burned, and 1,455 acres within Lake Meredith NRA.
Prior to the fire, in early 2014, multiple personnel from the Fritch Fire Department, Hutchinson County EOC, the Sheriff's Office and the National Park Service met regularly to develop a draft "Fritch Area Defense Plan." A collaborative effort, the plan was an organized response to a large rapidly moving wildfire toward the city of Fritch. The objective was to organize resources to best protect the community and limit the loss of life and property. The implementation of the Fritch Area Defense Plan by Lake Meredith NRA firefighters and law enforcement rangers undoubtedly saved many lives when the Double Diamond wildfire struck.
The award noted that the "collaborative efforts and the preparation necessary to develop the Fritch Area Defense Plan are commendable…The Fritch Area Defense Plan is a model of integrated efforts between local and federal agencies to accomplish common missions and goals. It is the hope of the interagency fire community that joint efforts and planning such as this will continue inspiring new partnerships across the country."
Congratulations to the fire management and law enforcement staff at Lake Meredith National Recreation Area for their outstanding efforts and receiving the 2016 Pulaski Award.
Last updated: December 14, 2017