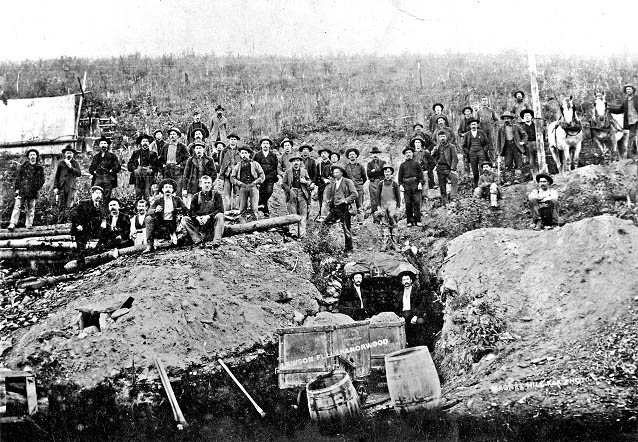 With the best of intentions, on December 18, 1897, President William McKinley signed legislation to get food to starving miners in the Yukon gold fields. The government, nothing if not original in this case, arranged for the purchase of some 500 reindeer from Lappland (or Norway) and the hiring of Lapp herders. The reindeer were to carry rescue supplies over the Chilkoot Pass to Dawson. It would have been a sight to see – trained reindeer carrying packs or pulling sleds and climbing the Golden Stairs to the summit, herded by Lapp men and women. But as sometimes happens with innovative government schemes, things did not go quite as planned. It turned out the miners weren't really starving and most of the reindeer died near Haines. But it does make for an interesting story.
The Klondike Gold Rush can be considered the catalyst that set this story in motion. The major part of the rush began in July, 1897, with the arrival of the gold ships Excelsior in San Francisco and Portland in Seattle. At that time new town of Dawson was primarily supplied by paddlewheelers coming up the Yukon River from St. Michael. They were small steamers and not in a position to greatly increase the amount of food delivered before winter if Dawson's population suddenly were to increased but that is exactly what it did due to the gold rush. The problem was compounded by unusually low Yukon River water levels, which prevented some late-season trips to Dawson. Outfitters began severely restricting what they sold, while those individuals who had extra food to sell could realize large profits. Fifty pound bags of flour that cost $6 now could bring $50 or more.
In order to get an account of the situation, on August 3 the Secretary of War, Russell Alger, ordered Captain Patrick Henry Ray to travel up the Yukon River. He arrived at Fort Yukon on September 12 and reported he couldn't get to Dawson due to the low water levels. By the end of November he had gotten three communications to Alger, but still had not made it to Dawson.