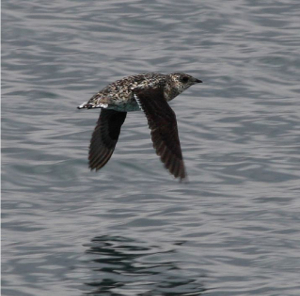 The Kittlitz's murrelet is a small diving bird that breeds and winters along coastal Alaska and northeastern Russia. They are associated with glacially influenced marine habitats and prefer to feed near stable or advancing tidewater glaciers where there is a diverse and abundant amount of forage fish. Unlike the majority of seabirds, Kittlitz's murrelets are solitary nesters, laying a single egg in a small scrape in unvegetated scree slopes or cliff faces.
Because they nest in remote locations, it is difficult to study their breeding behavior. Generally, population estimates of breeding Kittlitz's murrelets are determined by counting birds along the coastline from June to August. Total population can be difficult to determine from these numbers as adult  murrelets do not breed every year and the number of murrelets present near breeding areas fluctuates throughout the summer. Surveys can also be challenging since it is difficult to distinguish Kittlitz's murrelets from marbled murrelets, a close cousin found in large numbers along the Alaskan coast.
In Kenai Fjords National Park, Kittlitz's murrelets are most commonly seen near tidewater glaciers.