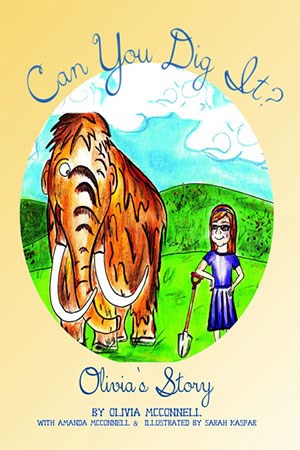 Can You Dig It?
Olivia was a third-grader with a BIG fossil story to tell, so she wrote a book. Reading this book may inspire you to work on science projects or paleontology too!
Book description: Olivia McConnell from New Zion, South Carolina, discovers her state is missing a state fossil from its emblems, symbols, and icons list. Olivia decides this is her opportunity to "change the world." With the help of her family, friends, and local lawmakers, Olivia lobbies for an official state fossil. After a long battle, South Carolina declares the Columbian mammoth as its state fossil in May 2014. Based on a true story!
About the author: Olivia McConnell is nine years old and is currently a fourth grade student at The Carolina Academy in Lake City, S.C. Olivia loves science and wants to be an Egyptologist when she grows up. Her love of science inspired her campaign to have her home state designate the Columbian Mammoth the official state fossil. The bill was signed into law in May 2014. Olivia currently corresponds with numerous paleontologists, Egyptologists, and professors throughout the world discussing research and working on her science fair projects. Olivia believes in the "power of her voice" and challenges everyone everyday to make a positive difference in the world.
Last updated: August 25, 2017