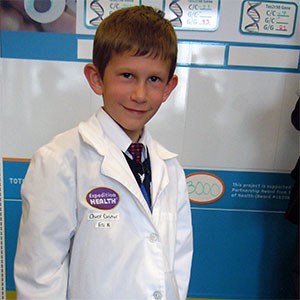 My name is Eli Navant and I am 10 years old. This is my story about my passion for prehistoric life.
My passion for prehistoric life started a long time ago. A while ago I would say the dinosaur alphabet with my mom, and watch Dinosaur Train with my dad. I would also get books about dinosaurs for my birthday. My Grandma Ruth gave me some of the best ones! My passion for prehistoric life has lasted to this very day.

So on November 1, 2012 I had my first official interview. The staff at the Denver Museum of Nature and Scienceinterviewed me for the position of Vice President of Research and Collections. The reason I applied was I heard Dr. Kirk Johnson was leaving the museum to take a similar job at the Smithsonian Institute. My dad gave me the idea to apply for Kirk Johnson's former job. I applied and was asked to come to the museum for an interview. The interview was not as I expected it to be. The people that interviewed me were Museum President and CEO George Sparks, Head of Human Resources Maria Hannon and Dr. Joe Sertich, Curator of Vertebrate Paleontology. I was taken back to George's office and they asked me all kinds of questions. How would I juggle school and this job? What kind of salary I would need? What is my favorite dinosaur? They asked me some very easy questions and some very hard ones. They were all very nice to me and the interview was shorter than I expected it to be.