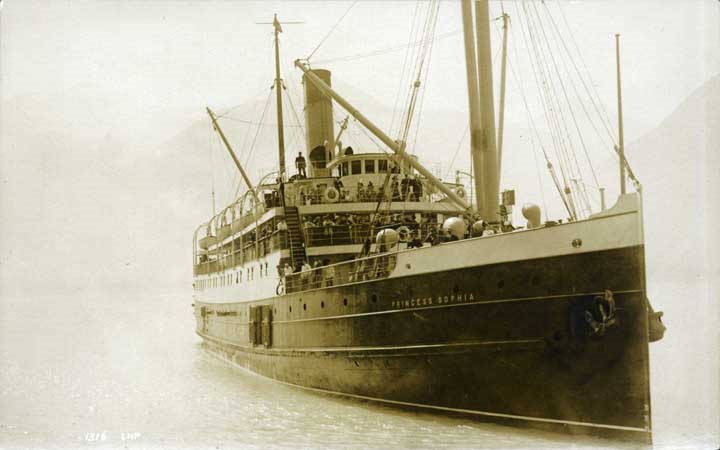 The Unknown Titanic of the West Coast
Approximately 6 years after the sinking of the
Titanic
, the
Princess Sophia
, also named the "unknown Titanic of the West Coast," remains one of the worst shipwrecks on the west coast of North America. The tragic sinking of the
Princess Sophia
, a Canadian Pacific Steamer, occurred in late October 1918.
At least 353 passengers and crew lost their lives in the wintery waters near Vanderbilt Reef. The shipwreck occurred days before the end of the First World War. Newspapers were highlighting the Armistice that ended the war and headlines focused on the increasing fear of Spanish influenza rather than the news of a tragic shipwreck in Alaskan waters.
On Wednesday October 23rd, 1918 the Daily Alaskan announced, "Steamer Princess Sophia leaves Skagway P.M. -- Tickets Take Same Rate to: Vancouver, Victoria, Seattle, Tacoma, Olympia, Everett, Bellingham, Anacortes and Port Townsend." At 10:10 pm on October 23rd, 1918, the Princess Sophia departed from Skagway on her last run of the season to Vancouver and Victoria, 3 hours behind schedule. The 353 aboard the
Sophia
included miners, territory and city government officials, businessmen, civil servants, their wives and children, and crew members. It was a diverse group representing individuals from the Yukon and Alaska. Four hours into the journey out of Skagway, the
Princess Sophia
had shifted course.
The Princess Sophia Crashes into Vanderbilt Reef
At 2:00 A.M. on October 24th, the
Sophia
crashed into Vanderbilt Reef at a speed of about 11 knots. Distance from the shore was most likely miscalculated with heavy snow, fog and zero visibility. How the ship came to hit Vanderbilt Reef has no definitive answer; the
Sophia's
log was never found and all the ship's officers perished. It remains a matter of conjecture on how exactly she got off course. The average speed for the
Sophia
was 11-12 knots, but given the weather conditions, a speed reduction of 7 knots should have been taken. Likely to compensate for a late departure, Captain Leonard Locke had continued at 11 knots. Upon striking Vanderbilt Reef, the ship's wireless operator sent out a distress call to Juneau. A fleet of rescue vessels assembled in response. Rescuers circled the
Sophia
for several hours waiting to save passengers and crew.