Kelly Field Historic District
By Aviation: From Sand Dunes to Sonic Booms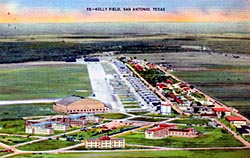 Kelly Air Force Base, in San Antonio, Texas, has been a vital center for American military aviation throughout its history. As World War I raged in Europe, the United States began to build up and expand its military aviation forces. In his search for a new army aviation training site, Maj. Benjamin Foulois found 700 acres of flat farmland with a water supply near the Missouri-Pacific rail line, then seven miles south of San Antonio. Aviation operations began here on April 5, 1917, the day before the United States declared war on Germany. Kelly Field, named for George Edward Maurice Kelly, the first military pilot killed in an airplane crash at nearby Fort Sam Houston in 1911, was one of 14 schools in the country conducting primary flight training during World War I. The school trained aviators, mechanics and support personnel for war duty. After additional land was acquired, the field was divided into Kelly Number 1 (later renamed Duncan Field) and Kelly Number 2. The Air Service Advanced Flying School, which headquartered at Kelly Number 2, trained pilots including Charles Lindbergh, Curtis LeMay and numerous future Air Force chiefs of staff. By the end of World War I, more than 250,000 men had passed through the facility. After World War I, rapid demobilization followed, and primary training at Kelly was discontinued. In 1922 the U.S. Air Corps decided to consolidate its flight training at two fields, Kelly Field and Brooks Field, named the Air Corps Training Center. Later, in 1931, all primary training was consolidated at the newly completed Randolph Field, to the north of San Antonio, Texas.
The area designated as the Kelly Field Historic District reflects the base's strategic importance during the late 1930s and early 1940s as a training center for America's military pilots, and contains buildings from the "new permanent area" or "reconstruction" of Kelly Field. The base experienced growth at this time to meet the needs of a developing air force and, later, a nation at war. In the time period between the two world wars, the organization and role of the air arm of the U.S. military was the focus of heated debate--whether or not the Air Service should function as an independent military branch and whether or not the Air Service should undertake bombardment operations independent of surface operations. As a result of this debate, Kelly Field was reconstructed on the eve of World War II, and that addition is the core of the Kelly Field Historic District. The district is located near the center of the present-day base, and contains a mixture of 39 buildings. Most of these were constructed between 1940 and 1943 to provide training, administrative, repair, supply and residential facilities for recruits, instructional and maintenance personnel, and both commissioned and noncommissioned officers. The buildings are constructed from a variety of materials including concrete, hollow-clay tile and stucco, and wood frame. Many are well designed examples of Art Moderne, Mediterranean or Spanish Colonial Revival architecture, while others reflect more utilitarian International style elements.
During World War II, Kelly saw a tremendous increase in its civilian and military workforce, including women, who were known as "Kelly Katies." Kelly Field continued to serve an important role in the war effort after it was consolidated into the San Antonio Air Depot in January 1943. By 1943, it had become the largest maintenance and supply facility in the country. At that time supply depot activities became the primary mission of the base and flight training activities were transferred elsewhere. After the Air Force was established as an independent military service in 1947, the field became known as Kelly Air Force Base. Personnel at Kelly were significantly involved with air transport and maintenance during the Korean conflict, the Cold War, Desert Shield and Desert Storm. Once the largest employer in San Antonio, Kelly Air Force Base was realigned in 2001 in response to peacetime defense spending priorities. Part of the base has been converted into an industrial center for both commercial and military businesses and the rest has been combined with neighboring Lackland Air Force Base.

Visit the National Park Service Travel American Aviation to learn more about Aviation related Historic Sites.
Last updated: August 29, 2017