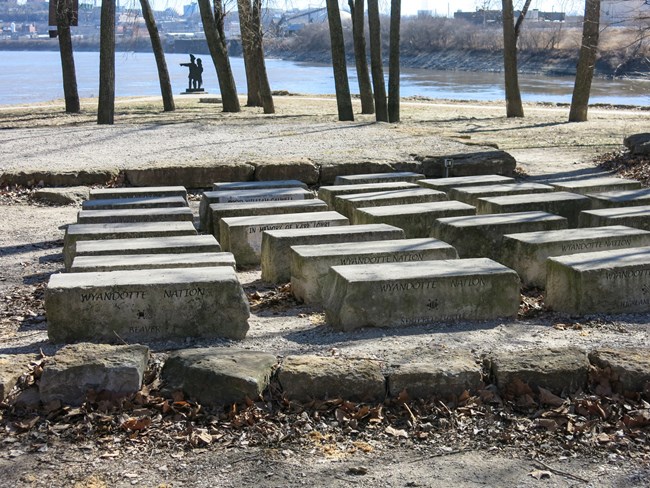 The Missouri River meets the Kansas (Kaw) River between today's Kansas City, Kansas and Kansas City, Missouri. It's believed the confluence in 1804 was only about 0.25 miles north of where it is today.
The Expedition camped at a wooded point where the Kansas enters the Missouri from June 26-28, 1804. The men hunted, repaired the pirogues, dressed deer skins, took calculations and built a six-foot-high fortification of logs and brush, called "bowers." Here's Patrick Gass's entry for June 26: "It was agreed to remain here during the 27th and 28th where we pitched our tents and built bowers in front of them. Canzan or Kanzas, is 230 yards and a quarter wide, and navigable to a great distance."
Today, you'll find Kaw Point Park in Kansas City, Kansas, a 10-acre wooded park along the shores of the confluence. You'll enjoy a memorial to all Native tribes of the area, a small amphitheater with limestone seating blocks carved with the names of the member of the Corps, and dramatic views of downtown Kansas City, Missouri.
Last updated: June 1, 2018