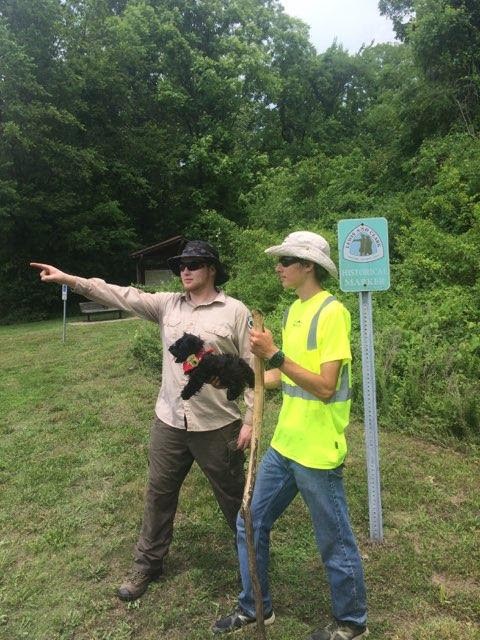 In honor of the 50th anniversary of the National Trails System, five special dogs, the Lewis and Clark Pups, will travel in the paws of their ancestor Seaman, dog of Meriwether Lewis. The pups will travel more than 3,700 miles to complete their mission to commemorate and protect the Lewis and Clark National Historic Trail. They will be joined by Seaman Jr. who will complete his portion of the mission on the International Space Station.
As they make their stops they will be reporting back in on their adventures. Follow Rocky, Harper, Dakota, Keelie and Seaman Jr. at:
go.nps.gov/NewfieNews
Dakota, reporting in! I stopped in the state of Missouri to visit Katy Trail State Park and Clark's Hill/Norton State Historic Site. I got to experience a lot of nature and to meet lots of new friends here!
My tour guides Anthony and Dean led me to a part of Katy Trail where we saw people walking, biking, and even riding horses. There are 26 trailheads that make up 240 miles of trail. That's a lot of land to explore! In fact, I learned it's the longest developed rail-trail in the whole country. It was built on the Missouri-Kansas-Texas Railroad after the trains stopped traveling on it. I liked the trail because it follows along the Missouri River and I got to spot things like old telegraph poles, restored rail depots, and a fun tunnel the train used to ride through.