Documenting Life's Simple Comforts
Richard Proenneke built his cabin during the summers of 1967 and 1968 using mostly local materials and simple hand held tools. He was an inspiration to those who value simplicity, self-reliance, and ingenuity. Proenneke began keeping a journal in the late 1950s or early 60s, prior to moving to Upper Twin, and kept it up during his time at Upper Twin. Over the years, Proenneke had a great need to document his life in words. In reading Proenneke's journal entries, one can reflect upon the importance of enjoying life's simple pleasures, like a light breeze, the stars and moon, or a fire when it's stormy out.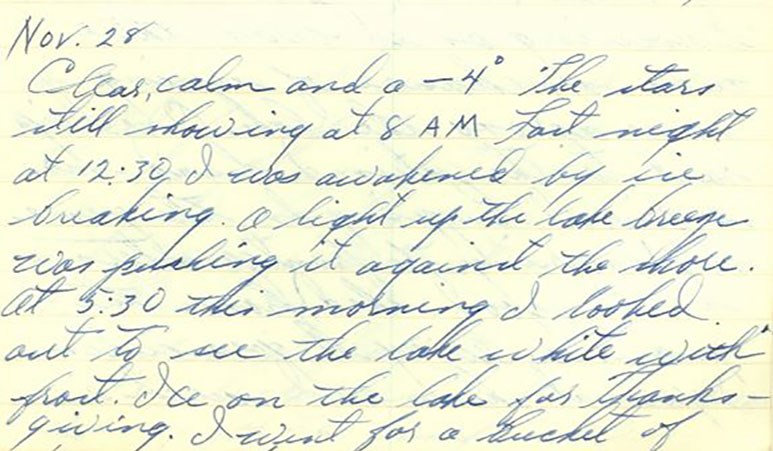 In Proenneke's November 28, 1968 journal entry (image above), he describes his first Thanksgiving spent in his new cabin at Upper Twin Lake:
"Nov. 28
Clear, calm and a -4°. The stars still showing at 8 am. last night at 12:30 I was awakened by ice breaking up.

A light up the lake breeze was pushing it against the shore. At 5:30 this morning I looked out to see the lake white with frost. Ice on the lake for Thanksgiving. I went for a bucket of water after breakfast and was surprised to find that the ice would carry my weight. I cut a hole with the ice chisel and found the ice to be a good inch thick. How far did it extend. From the farmer cabin I could see ice all the way to the lower end, but past Glacier creek I wasn't sure so hiked up the beach past Weiser's cabin. Ice along shore but open water from Glacier creek on up. Fog rising from the water dumped in b the river. I went up through the timber to come down the creek trail and flushed four spruce grouse. Fog was forming over the lower lake and clouds were moving fast up country. It was going to blow.

A special day. Fresh suet for the chickadees and a generous helping for the camp robbers and the squirrel.

Hotcakes for me this morning and a Thanksgiving dinner of loin chips, mashed potatoes and brown gravy. A salad of chopped cabbage, carrots & onion, sourdough biscuits and honey. For dessert - sourdough shortcake with fresh blueberries followed by a cup of hot chocolate and my last marshmallow. I opened two pounds of cookies that I have been saving since early Sept. As a result I felt more uncomfortable than I had in a long time.

The wind finally struck and the temp. bounced to a +5° and then back to 0°. The wind blew strong and the ice groaned I wondered how much it would stand. Late this evening I hiked up towards the hump to see if it held to Glacier creek. It had broken up country a short distance from the Weiser cabin and the wind pushed it to the upper end. I hope that it holds from here down.

Stars and a half moon were out again at 4:30 and the wind continues. The temp 4°. A fire in the fireplace most all day today and this evening. It is good company on a stormy day."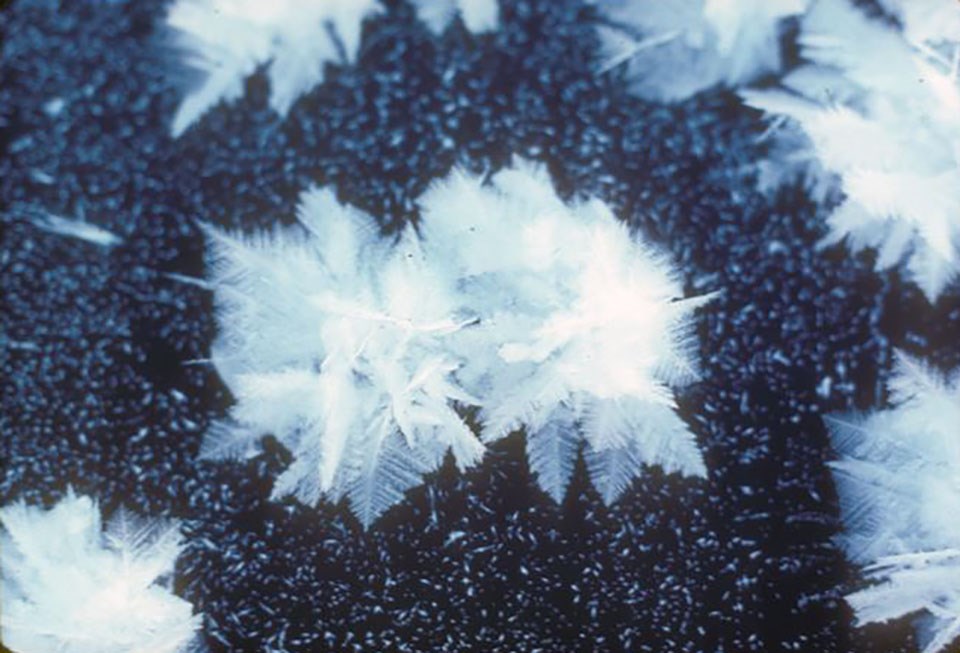 Soon after the creation of Lake Clark National Park and Preserve in 1980, Proenneke allowed the National Park Service to copy several years of his journals. In 2000, Proenneke and his brother Raymond donated all 255 of his journals to the park, which totaled nearly 90 lbs. In addition to these journals, Proenneke also donated his letters, calendars, photographs, tools, books, and household objects; nearly everything he owned at the cabin. These objects are part of Lake Clark's museum collection and housed either at the NPS Alaska Regional Curatorial Center in Anchorage or in his cabin at Twin Lakes.