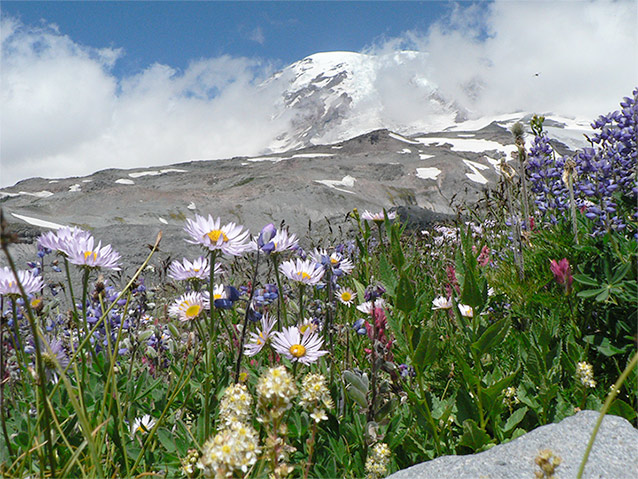 An Ascent of Mt. Rainier
John Muir first visited Mount Rainer on August 8, 1888 with educator and mountaineer Edward S. Ingraham, mountaineer P.B. Van Trump, artist William Keith, attorney Daniel Waldo Bass, botanist Charles V. Piper, photographer A.C. Warner, Henry Loomis, and a teen-age boy named N.O. Booth.  After almost two weeks of enduring spoiled food, volcanic ash windstorms, and falling rocks, Muir and six of the other party members reached the summit.  Muir then wrote a brief article, An Ascent of Mt. Rainier, shortly after his trip.
In 1893, President Benjamin Harrison created the Pacific Forest Reserve which included the majority of Mount Rainier within its boundaries except for the western portion.  Because Mount Rainier was part of a forest reserve, logging and grazing was still permitted as long as it was done within reason.  Immediately after Mount Rainier became a forest reserve, several organizations formed committees for the sole purpose of making Mount Rainier a National Park.  These organizations included the Geological Society of America, National Geographic Society, Sierra Club, Appalachian Mountain Club, and American Association for the Advancement of Science.